Five nights remain to see local artist Ian Brill's Psychedelic Monster Maze at
Spirit
— a brand-new Halloween attraction inside that popular nightspot.
The maze, located upstairs from Spirit Lodge, is supplemented by live music nightly through Halloween, culminating that night with a big
costume party
.
Brill's Maze is a high-ceilinged structure made of back-lit white plastic panels that glow in a constantly shifting array of patterns and colors. In some respects, it's an expanded version of
Plume
, an igloo-like installation he exhibited last year at Pittsburgh Center for the Arts. (And Brill's been doing
related work
for years.)
While you might encounter the odd monster inside the Maze, the emphasis is decidedly on the psychedelic, with a spooky, ambient soundtrack.
The Maze, with its wide passageways, is not at all claustrophobic, though if you have trouble with rapidly blinking lights, you might want to exercise caution.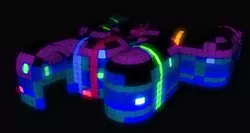 At one of the maze's exits, Spirit has added a small, walk-through haunted-house installation, which is kitted out with thrift-store finds and all the creepier for it.
Nearby, there's another small room with a fun black light attraction by the Locomotive Explosive.
Tonight, the Maze's accompanying musical attraction is the
Weird Paul Rock Band
. Five-dollar shows running from 8 p.m. to midnight continue tomorrow and Thursday.
On Friday and Saturday, admission bumps up to $15 for big parties occupying both floors of Spirit.
Friday's party, Lazercrunk Devil's Night, runs until midnight and features U.K. artist Sam Binga, special guests Tracksploitation and more downstairs, and upstairs (with the Maze, for no additional cover), a set by Silencio, the local group that performs the music of David Lynch and Angelo Badalamenti.
On Saturday, it's the
Lost Lodge Danse Macabre
, with Joe Bickle (of Los Angeles' Animal Club) and guests, a free pizza buffet and costume contest. The party goes until 2 a.m.
The shows are all-ages until 9 p.m., and 21-and-over afterward.
Spirit is located at 242 51st St., in Lawrenceville.