Carrying a huge bag of dirty money above their heads and marching to the beat of a band and their own chants, more than 100 protesters arrived at Republican U.S. Rep. Keith Rothfus' local office to demand that he stop accepting "dirty money" and step up on climate-change issues ahead of the Paris talks.
"A year ago, half-a-million people took over New York City [for the People's Climate March]. Today we're showing that those people are everywhere," said Tom Hoffman of the Sierra Club, one of the more than 10 groups represented at the march. "There's action in over 175 cities today [for national day of action] .The message is that the debate about climate change is over. Climate change is real, and we have to act now."
The People's Climate Movement, a campaign that formed after
last year's People's Climate March in New York City
, declared today a "National Day of Action on Climate." (The national movement acts as a clearinghouse for local action, like the
Pittsburgh Climate Movement
, listing events on its website and providing media tool kits.)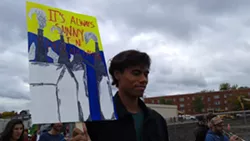 The Pittsburgh marchers carried the bag of fake money — covered with the logos of energy and natural-resources companies — into Rothfus' office, and formed a crowd outside.
"Those are all the companies that donate to Keith Rothfus. He's doing their bidding," Hoffman said. "He has perfect opportunity. We need our elected leaders to do their part, and for the United States to lead."
According to Federal Election Commission contribution disclosure
documents for Rothfus' 2014 campaign
, Koch Industries, Consol Energy and Alpha Natural Resources donated tens of thousands of dollars.
Speakers addressed their desire for clean jobs and concern for future generations' health.
"Because they know we need jobs in our community, they want us to believe that the only jobs are in fracking," Derek Fuller,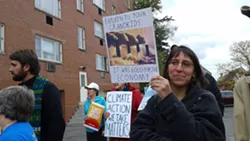 who attended the rally with Action United, said to the crowd.
After leading the crowd in a chant, Erin Kramer of One Pittsburgh said "We are choking on their money, and it is not OK." After the march, she told
CP
that her organization looks at climate change as an economic-justice issue.
"Our members, for example, and their children are often afflicted with asthma. So we can do things like pass paid sick days, but we need to address the root cause," she says. (Pittsburgh City Council
passed paid-sick-day legislation in August
, for which supporters often cited air quality and child-asthma issues as a reason parents may need to miss work.) "We do see it as a false choice between a job that pollutes the planet and no job at all. We're interested in the development of the next economy."
Rep. Rothfus' office did not respond to phone calls for comment.