Today the Paid Sick Days Coalition, a cohort of 25 organizations that advocated for Pittsburgh's sick-day legislation, which
passed almost unanimously in early August
, gathered in Market Square to mark 90 days until the law goes into effect. (The 90-day time frame, specified in the bill, begins when the city controller's office posts the regulations for employers, which can now be found
here
.)
"We are excited because this is going to benefit 50,000 workers in the city," Barney Oursler, executive director of Pittsburgh UNITED, told the small group of advocates and members of the media.
Beginning Jan. 11, employees in the city of Pittsburgh can begin accruing sick time to use for their own illnesses or to care for sick children or other family members.
Getting the word out about these regulations is now the task of the coalition, and members handed out educational fliers and held signs with the hashtag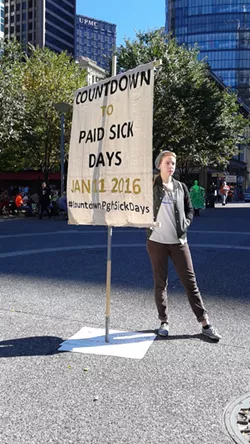 #CountdownPGHSickDays.
"The only way people will be able to use their paid sick days is if they know about it," says Alex Wallach Hanson, of Pittsburgh UNITED.
Employers are required to post
signs
detailing the law's specifics where workers will easily see them.
Employees at companies and organizations with 15 or more workers will begin accruing one hour of paid sick time for every 35 hours worked and can accrue up to 40 total paid sick-time hours. Employees at workplaces with fewer than 15 workers can begin accruing sick time at the same rate, but they can accrue only 24 hours of unpaid sick time within the first year of the ordinance. After that, they can begin earning paid sick time — up to 24 hours, or three days. Employers are permitted to allow a quicker accrual rate or more total paid sick time.
"For very small businesses, their thought was, 'This is going to hit us right away,'" says Councilor Corey O'Connor, the chief sponsor of the bill. "I got a lot of calls to my office [from] small consignment shops, restaurants and even from some large companies that are part of the Chamber of Commerce." O'Connor said once the new regulations were explained, those businesses were less opposed to the law than they had initially been. "If you already have this [sick time], then you're exempt."
But on Sept. 21, the Pennsylvania Restaurant & Lodging Association — whose chairman has been
vehemently opposed to the legislation since its inception
— and a number of city businesses and restaurants, including Church Brew Works, Rita's Italian Ice and Modern Cafe,
filed a lawsuit
against the city for overstepping its municipal authority.
"In attempting to provide a one-size-fits-all mandate to every business within the City regarding sick leave, the City of Pittsburgh has not only ignored the individual business realities facing employers, but has violated the statutory limits on its power," the complaint reads.
O'Connor says the city will fight for the law. "We take it as a moral issue," he says. "We've seen other cities that fought [for mandatory sick time] and won. As a city, we're doing the right thing for workers."
The Service Employees International Union of Pennsylvania, a party of the coalition, has
since joined the case
as a defendant.
Coalition members will continue to hand out education fliers in public locations in the coming weeks. They will be at the Wood Street T Station today beginning at 4:30 p.m.