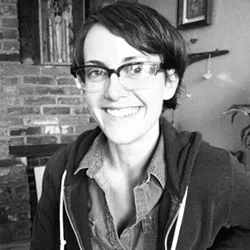 Few people know that medical students are more likely to commit suicide than to die from things like cancer or heart disease.
The U.S. loses between 300 to 400 physicians to suicide each year, and a 2011 study by Australia's
beyondblue Doctor's Mental Health Program
reports that as many as 30 percent of medical students and residents suffer from depression.
Frances Southwick, a Pittsburgh-based family physician, hopes to break the stigma surrounding doctors and mental illness with her first book,
Prognosis: Poor: One Doctor's Personal Account of the Beauty and the Perils of Modern Medical Training
(BookBaby).
Southwick moved to Pittsburgh from West Virginia with her wife in 2010 and completed her residency at UPMC Shadyside. It was there that her depression started.
Her wife's mother, father and sister died during Southwick's training, taking an emotional toll on the couple. Southwick also worked between 90 and 100 hours per week, and her training required her to rotate between different specialties, like working in the ER or delivering babies.
Southwick, who lives in Edgewood with her wife, says by phone, "The nature of family medicine is knowing a little bit about everything, so you constantly feel out of place and like you don't know anything."
She started
Prognosis: Poor
as a way to cope with her feelings of helplessness.
The majority of the book covers Southwick's residency, though it also touches on her experiences as an undergraduate and med student. She was inspired, in part, by psychiatrist Stephen Bergman's
The House of God
, a satirical novel that looks at the psychological effects of residency on a group of medical interns.
Prognosis Poor
, however, provides a more candid and personal look at those effects.
Prognosis: Poor
also advocates for changes in residency training, such as cutting the amount of time physicians spend training for situations they aren't going to encounter in their field. She points to the two months she spent in surgery as a resident, despite being a family physician who does not perform surgery.
Ultimately, Southwick hopes
Prognosis: Poor
will comfort residents and pre-med students who feel isolated by their depression. As Southwick says, "I think it's helpful to have personal stories so that people don't feel as alone."
Southwick will hold a book-release party at Schenley Park Cafe and Visitor Center, 101 Panther Hollow Rd., in Oakland. The free event takes place from 4-6 p.m. this Saturday, and features a book reading and signing, and live music by local singer Heather Kropf.