While reporting a
preview article
on Quantum's 25th-season opener – a world-premiere operatic adaptation of this play scored mostly with famous Baroque arias — I wondered whether combining Shakespeare's notably dense verse with Baroque's heavily ornamented sounds might not be a bit much.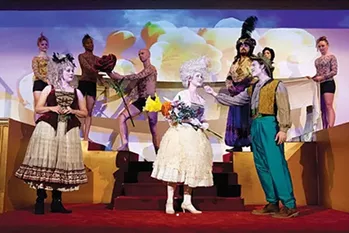 Artistic director Karla Boos assured me that it wouldn't. And indeed, as I discovered when I saw the show last week, Boos' heavy pruning of the text, as required by the "song" format, maintains basic plotlines while simplifying the rhetoric greatly (though all those cuts might displease Shakespeare purists).
In other words, you'll easily follow this opera's story, if only because all the sung text flows across the top of the stage as supertitles (just like at Pittsburgh Opera).
Do be prepared, however, for a bit of sensory overload anyway: Quantum's outdone itself, and for this adventuresome troupe, that's saying something.
In the auditorium of the gilded-age Union Trust Building (which odds are you've also never seen before), the gilt stage is occupied by 11 singers and four Attack Theatre dancers, all outrageously costumed by Susan Tsu. The singers vocalize in trained operatic tones to the sounds of a 10-piece period orchestra, led by Chatham Baroque and including the crazy-looking stringed instrument known as the theorbo.
Meanwhile, the dancers pose, cavort and clown. And if
that's
not enough, you'll get an eyeful and more of Joseph Seaman's gorgeous projected video, which is active for a good portion of the show and ranges from here-be-monsters maps to clouds skimming the face of the moon, animated vines twining skyward, and cherubs wafting from heaven.
It would all be plenty to look at, even if you weren't listening at the same time. But it also somehow all fits together very well, and holds your attention for its nearly three-hour running time (including intermission).
While
tickets
are $48, few will say they didn't get their money's worth of spectacle, or talent on display.
Here is Michelle Pilecki's
review
of the show for
CP
.
There are three more performances, including tonight's Ladies' Night show, and this Friday and Saturday.
The Union Trust Building is at 501 Grant St., Downtown.