This show incorporates two short works by Samuel Beckett; I don't recall either of them being staged in Pittsburgh in at least the past decade (here's Steve Sucato's
preview
for
CP
). But it's hard to imagine either being done better than they are by
Beth Corning's troupe
, here bookending a strong sequence of original work.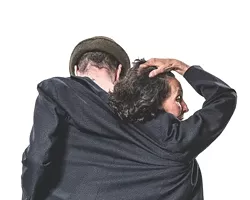 In Beckett's 10-minute classic "Act Without Words," Corning's esteemed guest performers Yvan Auzely and Francoise Fournier portray two tramp-like characters who inhabit large bags deposited on stage, and who are destined to repeat the same tragicomic, nearly futile actions in perpetuity. Then "Act" segues into a more expansive original half-hour piece that showcases Auzely, Fournier and Corning herself in a range of solos, duets and trios that lyrically explore striving, memory and mortality.
A couple of the best sequences involve a long length of red cord, which at one point is strung across stage in a series of diagonals about three feet off the floor, creating a sort of loose web. In Fournier's solo, she uses it to hang articles of clothing she pulls pensively from inside her trenchcoat, to wrenching effect. Auzely's rubber-limbed solo is on the same set, with him also costumed in a trenchcoat. It's danced partly to a soundtrack of harsh, rhythmic breathing, and it's stunning.
The overall effect of these original sequences choreographed by Corning is potent and, in keeping with Beckett, shadowed with abundant dark humor. And it's a great chance to see these two acclaimed veteran guest performers – Auzely, formerly of Sweden's Cullberg Ballet, and Fournier a longtime mainstay of the Swedish dance world who collaborated with Corning on last year's
Recipes Our Mothers Gave Us
.
This original choreography segues into Beckett's "Rockaby," a solo work performed by Corning, accompanied by a monologue in recorded voiceover.
There's no getting around it: Though it's just 15 minutes long, "Rockaby" is a challenging piece for the audience as well as the performer. Corning, playing a woman near the end of life, remains seated in a rocking chair and scarcely moves or speaks, and most of the voiceover is a series of repetitions of the same short, stream-of-consciousness monologue evoking stillness, waiting and a kind of thwarted yearning ("another creature there / somewhere there / behind the pane / another living soul / one other living soul / till the end came / in the end came / close of a long day").
To get the most out of "Rockaby," you'll have to meet it more than halfway. But it's quintessential Beckett, the brute facts of life reduced to the simplest terms possible, and all the more complicated for it.
"Beckett & Beyond" has four more performances, tonight through Sunday.
Tickets are $25-30 and are available
here
, with Sunday's matinee offering a pay-what-you-can price at the door.
The
New Hazlett Theater
is located at 6 Allegheny Square East, on the North Side.