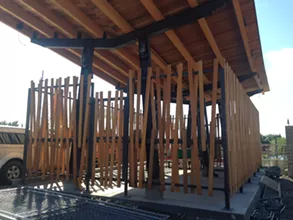 As the city grows increasingly dense and increasingly bike savvy, one less exciting bike component is bound to come up: bike parking.
"Parking bikes is the least sexy part of biking," says Dan Yablonsky of Bike PGH, "but [better implementation] is going to make parking easier, which makes riding more attractive."
On Sept. 4, bike, transit and development groups from around the city will meet to teach a course on how to implement bike parking into new and existing projects. Bike garages have become increasingly trendy in cities as of late, with
East Liberty getting one
as part of the new East Liberty Transit Center.
Yablonsky says there are still many questions associated with parking and the storage of bikes: What is the zoning associated with bike parking? What permits are needed to get bike racks installed? What design should be used now that more and more bike parking spaces are needed?
Experts in civic involvement, affordable housing, cycling advocacy and design will be speaking at the event to answer these bike-parking-related questions.
"A lot of architects want to know how to include bike parking in the design," says Yablonsky. "And with all the construction that is happening right now, this is a great opportunity for us to teach them."
Yablonsky adds that Dero Bike Racks will also attend the event and give attendees the chance to get their hands on some the latest bike rack technology. (Dero installed spring-leaded double-decker bike racks used in the new East Liberty garage.)
Yablonsky says that discussions like this are a first for the city and are being brought up because of the city's revived density issues and the huge increase in Pittsburgh bike ridership. According to the event's website, Pittsburgh has had the largest increase in bike commuters in the nation since 2000: more than 400 percent.
"I love that the city has gotten to a place where well designed [bike-related] products are necessary to save space," says Yablonsky.
More information about the event can be found
here
.