Pittsburgh's
house of the odd and the macabre
(think bizarre tourist-trap taxidermy, gothic themes, etc., all offered with a slightly unnerving grin) hosts an opening reception for an exhbition of paintings by Shawn Beeks.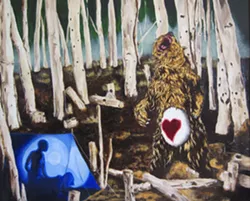 Beeks, writes Mr. Arm, the lord of Trundle Manor, "explores those moments in your dreams where you feel your insides telling you to flee but your feet are cemented with fascination.
"That is the theme of his September show opening September 4th at Trundle Manor; a fitting location for depictions of miserable caricature that present themselves as beautiful artworks too fascinating to run from."
The event starts at 7 p.m.
Trundle Manor is located at 7724 Juniata St., in Swissvale.
Learn more
here
.