It seems like everyday another scholar, journalist or parent comes up with a new way to "fix public education." See examples
here
,
here
and
here
.
But what if a local school district could be helped by something as simple as pencils?
That's the idea behind #2MillPencils, a fundraising drive to collect two million pencils for students in the Wilkinsburg School District. The effort, spearheaded by local nonprofit Internationally Smart Is Cool, would provide enough pencils for 2,000 Wilkinsburg students to have 200 each for the next five years.
"I hope that it shows that something very small can make a difference," says Jamillia Kamara, the organization's founder. "One pencil can write 45,000 words. You don't need millions of dollars to help communities, you can give 10 cents."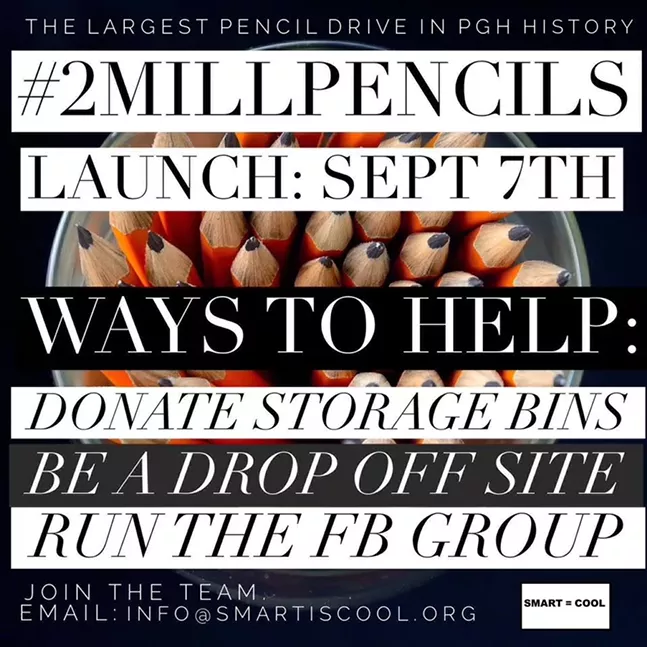 According to anecdotal evidence and the results of a small survey, Kamara, a former teacher who taught first and fifth grades, says pencils are one of the main school supplies teachers say they lack.
"Students don't have pencils ever," says Kamara. "It was identified that pencils were the number-one item that students didn't have by teachers."
The Wilkinsburg School School district has long struggled with poor student achievement. In 2014, the state Department of Education ranked all four Wilkinsburg schools among the lowest-performing in the state.
"We were looking for schools to partner with, and Wilkinsburg schools were really receptive," says Kamara. "There's a great sense of community there and collaboration that I found attractive."
The pencil drive will run from Sept. 7 to Dec. 3, but right now Kamara is calling on businesses and organizations to serve as drop-off sites. Each drop-off site will also need two storage bins. Those interested in helping can donate a bin or funds to buy one. Donors can also contribute to a
Go Fund Me campaign
. Later, Kamara will need volunteers to help count and box the pencils and transport them.
"Right now, to get us up and running, the biggest source of help we need is funding and sponsorships," Kamara says. "The barrier to entry is low. It's something that everyone can grab on to."
Beyond this effort,
Internationally Smart is Cool
is focused on serving middle-school students, a group Kamara says receives the least attention.