We slog through the twitter streams of the 2016 Presidential candidates, and give you a weekly round-up of the more entertaining ones, every Friday.
This week, we're posting a bit early to get out ahead of the debate tonight.
If you're watching the debate — 9 p.m. Thu., Aug. 6, on Fox News — be sure to download one or more from
City Paper
's set of
Bingo Debate Cards
.
A lot of food shout-outs this week, including a double-header for bacon.
Sorry Bobby, but bacon in a drawer just doesn't
have the firepower of ...
Watch
for yourself.
Spoiler alert: This is a really labor-intensive and expensive way to cook bacon, so not a good look for a guy who wants to make government simpler.
Santorum went corn-crazy.
This is just bad optics.
Rand Paul made a happy mistake
and
a Reagan connection.

Trump leveled a sick burn on the other candidates who aren't worth "TEN BILLION DOLLARS" like he is.

As for the debate — now debates — three different reactions from those relegated to the kids' table, i.e. the 5 p.m. undercard: Perry took the high road, Pataki got pissy and Graham made the best of it (a.k.a. added beer).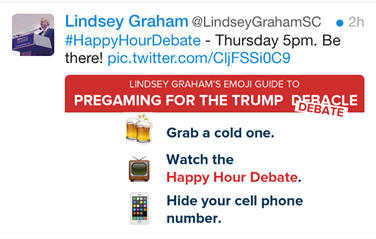 And fooling no one, Trump promised to play nice at the debate.