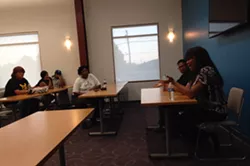 On July 23, Alex Smithson, 42, told the story of his transition from woman to man. He was in a brightly lit room in the back of the
Persad Center
, an organization that provides counseling and mental-health services to LGBT and HIV/AIDS communities. He told the story of when he was a young woman and was part of a performance where he was set to play a male part.
"I was suppose to be impersonating a guy," said Smithson to an intimate crowd of nearly 20 people, "but it felt like I was cheating, like it was too easy. That was when I realized I was trans."
The talk, titled "TransView," was put together as a joint event of
TransPride Pittsburgh
and
Pittsburgh Black Pride
. Lyndsey Sickler, of TransPride, says the discussion was to be educational and informal and provide people with first-person stories of transgender Pittsburghers.
"It is so vital that people in our community speak. The voices of trans people can't just be celebrities," said Donna Christopher, also of TransPride. "People have different struggles than Caitlyn Jenner."
Alice Millage, 32, also shared her story of transitioning from a man into a woman. Millage, who served in the Air Force as a man, started her transition about one year ago and says that people are starting to get used to it, but she still receives hateful side comments.
"I have been through so much passive-aggressive verbal abuse, I just laugh it off now," said Millage.
Both spoke about the specific struggles of being a trans person of color. Like how as black men, people always gave them space, whether it was advantageous, such as at a crowded T stop, or awkward, like when people would avoid sitting next to them on a bus.
Millage added that now, as a woman, she has to be more conscious when going out alone at night than when she was a man.
Christopher, who is trans, added that events like this are really important to TransPride's mission and that they are helping to change perspectives.
"People used to come up and say to me, 'Yinz aren't at all like the people on
Jerry Springer
.'"
Other Pittsburgh Black Pride events this weekend include The Aggresive-One and Ms. Fem Pageant starting at 6:30 p.m. Fri., July 24, and the Annual Pride Ball, at the American Legion Building in Troy Hill on Hatteras Street, at 7 p.m. on Sun., July 26.