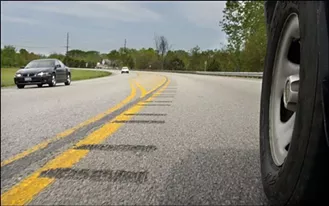 Update (12:40 p.m.)
: We hope you'll keep reading anyway, but in the 10 minutes between this blogh's posting and this update, we got word from state Sen. Wayne Fontana that PennDOT will not be installing the rumble strip on Butler street after community dissatisfaction with the plan.
PennDOT is considering installing a centerline rumble strip on Butler Street that could potentially run from 31st to 57th streets, basically the entire crowded portion of the very popular commercial district.
A rumble strip is better known as a sleeper line and is designed to alert inattentive drivers that they are drifting into another lane. Rumble strips make a loud audible noise when driven over that is easily heard both inside and outside the car.
"It will drive residents and businesses crazy," says Will Bernstein, president of Lawrenceville Bike and Pedestrian Committee (LBPC).
The members of LBPC just happened to stumble upon the plan for a rumble strip while perusing PennDOT's weekly schedule and have since
created a petition
to stop the rumble strip from being installed. They have received around 560 signatures, including 30 local businesses.
On top of the potential noise created, Bernstein says a rumble strip could also make biking on Butler Street more dangerous. He adds it will make it "extremely unlikely" that drivers will give the required four feet of space while passing bikers.
And while the strips will not be installed at intersections, Bernstein points out that they will still cause problems for bikers who want to cross Butler to get onto driveways or to park at bike racks.
The news of a potential rumble strip comes at an awkward time considering that Mayor Bill Peduto issued an executive order in April, requiring the city to develop a 'complete streets' policy plan. The complete-streets model is a transit design that gives equal rights to pedestrians, cyclists and drivers.
Bernstein says that a rumble strip on Butler does not fit into the complete-streets model. He adds that having a rumble strip on the same stretch of road with sharrows (bike signs painted on the road to signify the road is a common bike route) is not normal.
However, the city might not have much say because that part of Butler Street falls under state control. Even though PennDOT has final say on the outcome, mayoral spokesman Tim McNulty says that city is in preliminary discussions about the rumble strip with PennDOT.
Helen Ewing, community-engagement rep for Lawrenceville United, says the community group has reached out to state and city officials, but at this point, the organization can only be an advocate.
Initially, the rumble strip was set to be installed on July 27 to coincide with the final round of repaving Butler Street (and ironically the day after the last car-free
Open Streets
festival of the summer). But, state Sen. Wayne Fontana, who represents Lawrenceville, says he has reached out to PennDOT and asked them to delay the project; he has yet to hear back.
"It makes no sense [to] me," says Fontana. "I don't see a need for the strips, especially without the community input."
Fontana says he has received emails from residents and business owners with concerns about the rumble strip. He adds that PennDOT failed to solicit community input before approving the project.
"They need to realize that the community isn't for this and [PennDOT] is going to have to prove that it is necessary, which I don't think [they] can do," says Fontana.
PennDOT District Safety Engineer Kathryn Power says that they will be reconsidering the rumble strip and should make a decision by the end of the week.
Power explains that the rationale behind the centerline rumble strip is to make the street safer for drivers, by helping drivers avoid collisions that often occur on the busy street.
"It is a safety improvement — it does reduce head-on and side-swiped crashers," says Power, "and there is enough data to support this."
However, when asked if she knew of any other examples of centerline rumble strips in urban, commercial areas, she could not think of any, but said rumble strips can be applied to urban settings.
Bernstein points out that centerline rumble strips are almost never seen on urban roads, especially ones in commercial areas. In fact, the location criteria for centerline rumble strips are only listed as rural roads, according to PennDOT's "District Highway Safety Guidance Manual."
"We have received a lot of public opinions on this," says Power. "We are aware of the public's feelings and we are taking it into consideration."