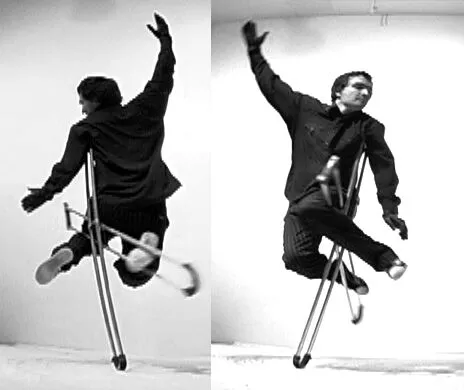 With 70 hours to go in their
Kickstarter drive
, producers of a feature film on a world-renowned Pittsburgh-based artist and performer need less than $10,000 to meet their goal.
"Crutch," 14 years in the making, tells the story of Bill Shannon, who was born with a degenerative hip condition and in his younger years was on and off crutches. He developed a street-dance-inspired performance style incorporating crutches and sometimes a skateboard. He grew up largely in Pittsburgh and after moving away became an acclaimed dancer, choreographer and performance artists with credits around the world, from the Tate Modern and the Sydney Opera House to a stint with Cirque du Soleil.
Shannon's street performances often critique the way society views people with disabilities. He is also an
accomplished visual artist
.
Shannon now lives in Stanton Heights. Here's a
profile of him
I wrote for
City Paper
in 2007, a year after he moved back to Pittsburgh to raise his family.
While he's kept a low profile in Pittsburgh, he's continued working outside the area and around the world.
The California-based producers of "Crutch," Sachi Cunningham and Chandler Evans, have been documenting Shannon for 14 years. The footage for the planned feature-length film is largely shot (or, in the case of archival footage, gathered). The additional funds are needed for post-production, mostly editing and music licensing.
As of noon today, the Kickstarter campaign had raised nearly $91,000. The deadline for contributing is 10:57 a.m. this Friday.
Contribute
here
.