We slog through the twitter streams of the 2016 Presidential candidates, and give you a weekly round-up of the more entertaining ones, every Friday.
The most delicious-looking tweet was Hillary Clinton's logo reproduced in summer berries.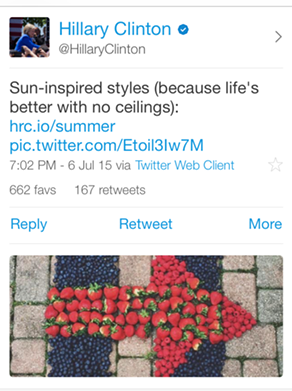 To establish his patriotic bona fides, on July 4, Rick Santorum tweeted a Spotify list of "truly American music." Judge for
yourselves
, but it looks like somebody simply searched for songs with the word "America" or "American" in the title. (Confidential to Rick: "American Pie" is kinda about how everything has gone to shit ...)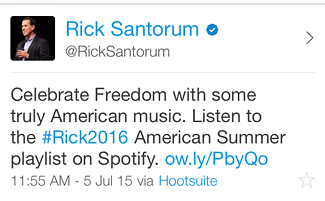 In related musical news: This song is also on Santorum's list. Note "crowd."
And Huckabee went for the trifecta of hunting ducks, God and Charlie Daniels Band, with bonus big rigs.
Not to be outdone in patriotic amusements, Rand Paul sent a word search.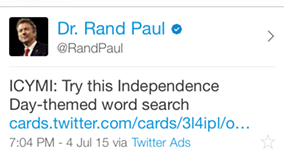 Marco Rubio is not afraid of going back in time to a 27-year-old movie to make a point. Also, fails to understand that time machines can also go to the future.
Perry picks a photo of him
listening
to Obama to illustrate how he talked Texas-tough to him. Points sitting under the Presidential seal, though. Sly optics.
Ted Cruz saves The Simpsons.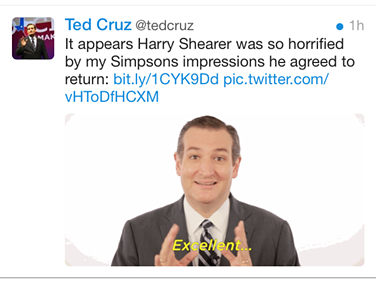 Lincoln Chafee tweeted about the Vietnam war, because 2016.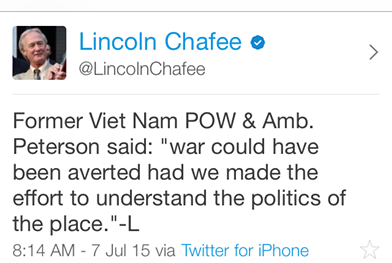 And in a week of contentious statements, Donald Trump took a stand that many
can
agree with.