One cannot talk about a concert at First Niagara Pavilion without mentioning the commute to and from, so let's get that out of the way first (if you've never been there, keep your innocence and skip to the fourth paragraph). For any in-the-know fan heading west of Pittsburgh to the rural fields of Burgettstown, PA for a show at First Niagara Pavilion, thoughts of traffic, getting in and out of the parking lot, and driving home all mingle to create a fierce bubble of stress surrounding what should just be a really good time. The commute—
who's driving, should we take an Uber, which one of our friends owes us a really big favor, should we put an ad on Craigslist
—takes increasing precedence in the weeks leading up to any concert at First Niagara. It's not healthy, but for the right artists, we put ourselves through it. For me, Wiz Khalifa was worthy. I had also bought my 15-year-old nephew a ticket as a belated Christmas gift. This would be his very first concert, so we were going to get there. Somehow.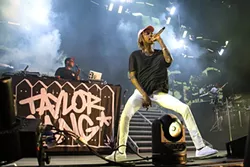 The Boys of Zummer Tour—a symbiotic union of Wiz, Fall Out Boy and their respective fans—was barely a month old when it hit its Pittsburgh-area stop at 7:00 p.m. on July 2, the day before the observed Fourth of July holiday this year. I finally decided to just suck it up and drive to First Niagara Pavilion, and so at 3:00 p.m. my older brother, nephew, boyfriend and I left the city, confident we had eluded outbound 376, only to realize that everyone downtown had also left their offices right around then for early holiday dismissal. What should have been a half-hour drive (45 minutes at best) took nearly two hours, and once we finally reached the Burgettstown exit, we joined a steady caterpillar of cars crawling into First Niagara's sprawling gravel parking lot.
I am now convinced that there are few better feelings in the world than finally parking at First Niagara Pavilion.
And so once parked, we dawdled longer than necessary, basking in the heat, surrounded by pickup trucks, crop tops, really short shorts, mid-calf socks, snapbacks, teens. There's a new level of people-watching that happens at any tailgate, but witnessing thousands of teenagers each carrying a blind YouTube-esque confidence is something to really take in. Selfie at the porta-potties? We saw this happen. More than once.
We missed most of opener Hoodie Allen's set but still managed to thread our way down near the front of the muddy lawn section, winding past those who had mistakenly brought blankets and posted up early, and others who paid good money to rent squat green lawn chairs that were later abandoned. The lesson here: there's no sitting at a Wiz show.
After a brief reprieve brought by DJ Drama and a tune-up from his musicians, Wiz launched out on stage wearing a jean jacket, white jeans, and a crumpled baseball cap over his bleached dreads. He eased into the mellow hit "Roll Up" before doing a hunched-over gallop across the stage through "Work Hard, Play Hard." Wiz then lured the crowd into a one-armed waving surge during "Black and Yellow" (amen, Pittsburgh). For over an hour, he alternated his hunched-over stance with either one-legged air kicks or pauses to stand tall and throw both arms in the air like a proud, newly potty-trained toddler. When he finally reached "We Dem Boyz" I thought, this is it, what a good song to finish with. And it appeared everyone else was satisfied, too, as there was no juvenile booing from the haze-draped crowd when Wiz disappeared, up and leaving the stage like it was Amber Rose.
But: hol up, hol up, hol up.
Out of nowhere, Wiz emerged on the pop-up b-stage 20 paces in front of me, turning his full attention toward the masses on the lawn, his back toward the pit. After a few delayed seconds of confusion, we all pressed forward, getting as close as possible to our now shirtless and tatted hometown hero as he jerked up and down to "Taylor Gang," a shout-out to his Pittsburgh alma mater, Taylor Allderdice High School (yes, he graduated). In previous shows on the tour, Wiz had brought out surprise guests, including Travis McCoy from Gym Class Heroes. For his Pittsburgh audience, Wiz was his own surprise guest, and nothing could be more appropriate than getting all up close and personal with the majority of his paying fans.
After returning to the main stage, Wiz wrapped up with "See You Again," the Paul Walker/
Furious 7
tribute that has captivated the charts and hearts of many. Finally, after lighting up the stage (figuratively, and literally) for over two hours, Wiz was out.
With a full, orange-tinted moon rising to our left, we stayed for Fall Out Boy's bursting opener, "Sugar, We're Going Down." Then it was mutually decided that it was time to go home. Like Wiz, we wanted to leave on a (less literal) high note. And beat parking lot traffic, of course.