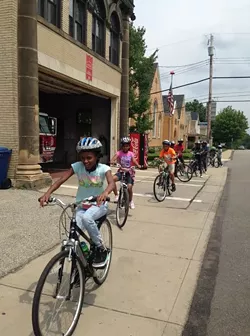 Last week, a group of 15 eager middle school students pedaled around the neighborhood streets of Sheraden in the West End, even along the busy Chartiers Avenue thoroughfare. They rode to a small park, and squealed in delight as they sped through the grass and circled the basketball court. For some of the kids, it was one of their first times on a bike.
By summer's end, the students of
Bike PGH's Positive Spin
program will ride from Sheraden to PNC Park, the South Side, and Point State Park. Those rides are about five miles and more than 400 feet in elevation change from the hilltop neighborhood; not an easy tour by anyone's standard.
Positive Spin is a program designed to teach elementary and middle school students how to navigate safely through the streets, trails, and paths of Pittsburgh, so that they can reach parks, schools, and their homes without incident.
"You would think that our young students can't bike to the Point," says Positive Spin Program Director Julie Mallis. "But we have had fourth and fifth graders biking to the Point from Homewood."
Mallis shares the program's success in the stories of its students: One middle-schooler who moved farther from his school on the North Side decided to bike to school every day rather than take the bus.
"One student did not know how to ride a bike at first," Mallis says. "Now, I see him riding around everywhere: Bloomfield, Garfield, Lawrenceville. He rides everywhere for fun and for commuting, it is great."
The program was originally run by MGR Youth Empowerment, a Chicago based non-profit, for the previous four years. But with MGR discontinuing its Pittsburgh programs,
Bike PGH
stepped in this summer to take over Positive Spin. Mallis, who has been working with the program since its inception, says the program was originally dreamed up by former staffer as a way to give kids a chance for independence, responsibility, and self-sufficiency by teaching them to use bikes as their primary mode of transportation.
More than 150 bikes were donated by Pittsburgh Public Schools Summer Dreamers Academy initially, and Positive Spin was born. Now, Mallis runs the program with five staffers a handful of interns, and volunteering public school teachers at Faison Elementary School in Homewood and Langley K-8 in Sheraden, serving around 100 participants.
The students are taught the gamut of bike-related skills, such as braking in a square, shifting, slow racing, and bike signals.
"This is a great opportunity for us," says Bike PGH Education Program Coordinator Dan Yablonsky. "It will be the first road education that [these students] will have."
Yablonsky says he's excited about the prospect of students first learning about road laws from a bike seat instead of from behind the wheel of car. He added that the program encourages civic engagement and teaches the children how to write letters to public officials, requesting bike lanes or whatever their community might need.
Langley instructor Marcin Jaroszewicz believes teaching kids to bike through Pittsburgh is increasingly important because of cuts to many suburban bus routes.
"Many people are being pushed out to suburbs and public transportation is being cut," Jaroszewicz says. "So biking is filling in the gaps that are happening in Pittsburgh."
Bike PGH staff say they hope to expand Positive Spin throughout the school and hopefully add more long rides.