Contributor Ryan Smith recently caught up with CAKE in advance of the band's headlining gig at this year's All Good Music Festival (which you can read more about
here
) happening July 9 to 11 at Berry Hill Farm in Summit Point, West Va.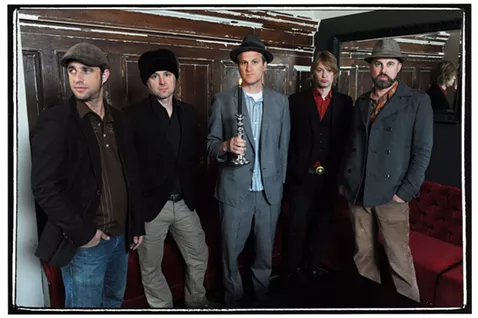 Here's what trumpeter/keyboardist/vocalist Vincent DiFiore had to say about this, that, and some other things:
First off, tell me a little bit about where and what you guys are up to at the moment, geographically and sonically speaking.
At this very moment, we are in Tucson, Arizona getting ready to play a show at the Rialto theater. It is very hot. The audience was absolutely fantastic at the show last night in Tempe! We are looking forward to a similar experience here. We are ready.
I was thrilled — and a helluva alotta other folks were, too — to see Cake announced as a headliner at this year's All Good. How do you feel about sharing the top of a bill with the likes of Primus, moe., and a big 'ol slew — a musical stew, if you will — of other eclectic artists?
Playing the same festival with great bands makes you pay that much more attention to your own music. We need to represent ourselves well. We are grateful for the place we have in the music world. It's not lost on us.
From giving out tree saplings to lucky fans, to hosting a carpool program for showgoers, to focusing on more sustainable recording and touring practices, it's obvious that CAKE is one environmentally-conscious group. Would you say, then, that the evolving live music festival scene around the country — when traveling (often in large groups) to one destination can mean seeing and hearing tons of music instead of just a little — is a step in the right direction? Do you feel it echoes of change for the better in other regards, too?
It's probably not practical for us all to make a burrow in the ground for shelter and live off of the berries from a juniper bush. The world and human civilization continue to turn and churn. We are a part of that, and at the same time, we will support whatever efforts there are to preserve a sound environment.
Anything else you'd like to add about your highly-anticipated upcoming All Good appearance? About what's happening with the band? About the current state of live music? About the world-at-large?
We are looking forward to the festival! Meanwhile we are paying attention to current events in the music world, and in our own country with great interest. We believe in a world that makes decisions based on rational observation and reason.