The Los Straitjackets dub themselves as the World's leading practitioners of the guitar instrumental. And it's true the Nashville-bred group has earned impressive notches on their belts cranking out more than 11 albums, recording with the likes of Tom Petty, The Reverend Horton Heat and El Vez (Mexican Elvis) and scoring a Grammy nomination.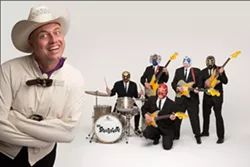 So it made sense for their latest offering to highlight their instrumental prowess again, but this time, with lyrics. The group paired with rockabilly singer Deke Dickerson to release Los Straitjackets:
Deke Dickerson Sings The Instrumental Hits
in October, and play in Pittsburgh at Club Cafe tonight.
"Deke came to us with the idea," says Straitjackets guitarist Eddie Angel. "We're all sort of record-collector-geek types and knew about a lot of these instrumental songs that had words put to them." Throw in some internet research, Angel says, and lyrics were found to songs like "Walk Don't Run." "All of these songs were new and at some point in time someone put lyrics to these songs in an attempt to cash in," Angel says.
The group has worked with Dickerson before, recording a 45 with him with songs like "Town without Pity" and "Bad Reputation." They've also played some festivals together. As Dickerson has noted the musicians "decided that six knuckleheads were better than one and that joining forces for an album s worth of vocal instrumentals was yet another mountain that needed be to climbed."
Dickerson described the collaboration as, "imagine Bill Murray's classic lounge singer character on Saturday Night Live belting out drunken made up lyrics to the Star Wars Theme." Angel describes the collaboration as "The Ventures meet Homer and Jethro. "
The album combines the Straitjackets familiar surf and rock sound with rock, honky tonk (with an appropriate song titled, in fact, "Honky Tonk" ) and rockabilly. Two tracks on the album
Fury and Kawanga
are Los Straitjackets originals that they had songwriter and pal Mark Winchester write lyrics for.
While putting out a lyrical album is a new avenue for the Straitjackets, Angel says fan response has been positive. "I've only heard good things; There's been a few disgruntled fans but I'm pleasantly surprised at how well it was received," he says. "I thought there's a chance people will give us a lot of flak for this."
The group is back in the studio and Angel says "we might do something with Deke again." Among other ideas that Angel says are percolating are a mambo record with Mexican Elvis, El Vez and rockabilly singer Big Sandy (Of Big Sandy and his Fly-Rite Boys). "We thought about doing something together with them and call it like the Latino Rat Pack," he says. Other ideas include having the work on backing up some fellow female guitarists on a concert record.
"We're never short of good ideas," Angel says. "It s just trying to find the right one today."
Angel looks for inspiration in pre-rock songs and anything recorded before 1967. "My favorite thing," Angel says, "is learning songs from the 20s, 30s and 40s and the chord changes. They are really well-written songs it's a lot of cool stuff."
That cool stuff integrates itself into their latest album as some tunes call to mind previous songs like "Lonely Apache" or "Tijuana Boots."
As for Thursday's show, it'll just be the Straitjackets: Angel, Pete Curry, Chris Sprague and Greg Townson, without Dickerson. Angel says, "We're going to try to dig up some instrumentals and dust off some songs we haven't done in awhile. In addition to their signature Lucha Libre Mexican wrestling masks, fans may also hear something new.
Angel says, "We want to play songs that we've never done live."
Los Straitjackets with The Gothees. 8 p.m. Thu., July 2. Club Cafe, 56 S 12th St., South Side. $22. 412-431-4950 or www.clubcafelive.com