"That concert. It really made me wonder."
This was my plus-one's response to Tuesday's two-and-a-half-hour Billy Corgan concert, after taking a few hours to mull it over. Wonder about what?
"Oh, you know … modern music, the state of the music industry …"
Admittedly, the whole thing made me wonder as well. But, this show — which took place at the Carnegie of Homestead Music Hall and was billed as "The Smashing Pumpkins In Plainsong – An Acoustic-Electro Evening" — didn't seem to say much about the current state of music. It felt more like a relic of a music industry past, not only because it featured an icon of the '90s playing hits from several decades ago, but because it demanded some semblance of an attention span. (Though, to be fair, most current movies have longer running times than this show.)
This was one of those "who is this for?" kinds of nights. Corgan played some selections from the Pumpkins catalog (which was, presumably, of primary interest to much of the crowd), some Zwan tracks, and a bunch of solo stuff.
There were some real super-fans, like the woman in front of me who spent the entirety of the show singing along and doing interpretive hand-dancing from her seat. When Corgan offhandedly accused the audience (and the world in general) of not liking
Adore
when it came out in 1998, hand-dancer yelled, "I LOVE IT!"
"You're the only one, darlin,'" Corgan replied.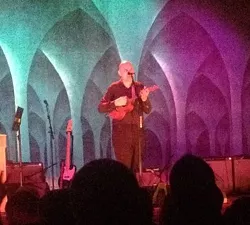 To my dismay, confusion about start time caused me to miss Korean radio-rockers YB, who opened the show. By the time I sat down, Corgan was already behind a plywood piano, playing "Tonight, Tonight," in front of a painted backdrop of green-light, cathedral-like arches. Audience members were losing their shit over hits and deep cuts alike. Looking at Corgan, who wore all black and an expression of self-satisfaction, I started to feel a strange anxiety. "I have no idea how this will go," I thought. "This could be really bad. How am I going to get through two and a half hours?"
Corgan — alongside neo-Pumpkins guitarist Jeff Schroeder —spent the first leg of the show playing a series of freshly-tuned acoustic guitars. When they played "Today," my plus-one noted that it was like when that guy at a party picks up a guitar and starts playing '90s alt-rock hits. Only in this case, it was the guy who actually wrote the '90s alt-rock hits. The surrealness of it all bathed me in another wave of discomfort.
But surprisingly, once I settled in, the evening flew by, and Corgan steadily won me over.
Moving back to the piano, he was joined by current Smashing Pumpkins bassist Katie Cole and things got a little more rockin' and a lot more interesting. And then, following a dreamy rendition of "For Martha," the guitar tech handed him a ukulele. "I told them," he said, referring to the previous night's irritatingly rowdy Buffalo audience, "If the songs about my dead mother don't shut you up, maybe the ukulele will."
But my favorite part of the night was when Corgan abandoned personal instrumentation all together, and let loose on the mic while thrashing around the stage.
It's easy (for me at least) to forget that Corgan — who has always represented a strange mix of awkwardness and an admirable (if sometimes blind) confidence — is a bonafide rock star. And you don't get to be a rock star without some star power.
Sadly, I stepped out and missed Corgan's one real diva moment — when an audience member shouted "Play something from Gish!" he, according to a friend in the audience, "got mad and mock-played every song" from that record.
Despite the long runtime and the hot auditorium, this will likely rank among the most memorable and oddly enjoyable shows I'll see this year. And maybe I'll even check out some of Corgan's solo records. Good job, music industry.