On June 29, San Francisco-based rock-band Third Eye Blind will make a stop in Pittsburgh as part of it's summer tour with emo band Dashboard Confessional.
City Paper
talked to Third Eye Blind's lead singer Stephan Jenkins about the upcoming show, the band's latest album
Dopamine
, which was released June 16, and how Third Eye Blind has managed to remain relevant and attract new fans after nearly 20 years in the business.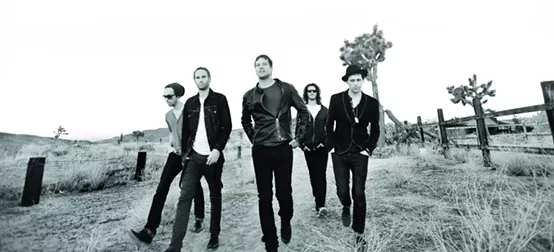 Why did you decide to team up with Dashboard Confessional for this tour?
We were invited and I knew pretty much immediately that it would be a good pairing. I really respect Chris [Carraba, Dashboard's lead singer] as a songwriter and I also like that he's really an underground indie artist. He's really done everything on his own terms. He's not a radio artist and yet, that audience knows every word of those songs and that's really an achievement I think. We get asked to do this stuff all the time and we say no, but this was not a hard decision.
Tell me about your new album. How does it differ from your previous records?
I just feel this enormous sense of levity that it's out and it's going to go out there and in whatever way be a part of the culture.
It's more simplified in a lot of ways, a little bit less syncopation. Our drummer Brad [Hargreaves], said to me 'I want you to take everything and simplify it, what is the most direct route to conveying that emotion, that idea.' So much of the drums are just a pulse, it's a very pulsing kind of driving record. I hear a lot of like New Order, Joy Division, Cure and like post-rock bands. Lyrically it's kind of about seeking authenticity and identity with a bit of a wary stance, not wanting to get your emotions hustled by the greater culture.
I read that this would be your last album. What do you mean by that?
The process of making albums is really painstaking and painful for me. I don't think that it's necessary. I think we can just put the music out as we make it and that will be better. Now we're going to put out a lot more music…and do things more based on happiness quotient. We'll be putting out lots more music and I'm not really sure how we're going to do that, but we're going to figure that out. Soon enough man. Soon enough.
While other bands come and go, you guys have been around 18 years. What's your secret?
Brad and I endure because I think we're actually really into the music we're doing and trying to push that forward and have a connection with the audience. We have our own sense of vitality and resilience and we get that from what we do. It feeds into both of us. That's why I literally do somersaults.
Most of our fans were not born when our MTV stuff was going on. I think our audience, they find something that is essential to them. It answers a need.
How has your music changed over time?

I think I'm much more confident in the studio. I don't put as many layers on things. I think I'm better at listening now. The favorites are always the new songs. Those are the ones you're always in love with.
What should people expect at the show on Monday?

They should expect absolute glory. They should come with open hearts and anything less than that, forget it… And they should wear sensible shoes. People at our shows like to get all smooshed up next to each other, very smooshy. And you gotta go with that spirit and then it can just turn into one big sweaty romp.
There's something really beautiful about those gathering moments where music begins and people come together around it. They come up out of themselves and there's multiple senses of connection and we are about that. We're about trying to make that connection.
I like Pittsburgh. I think it's a really underated town. I like the shape of it. I like the people there. I think they just have a genuineness that really works for me.