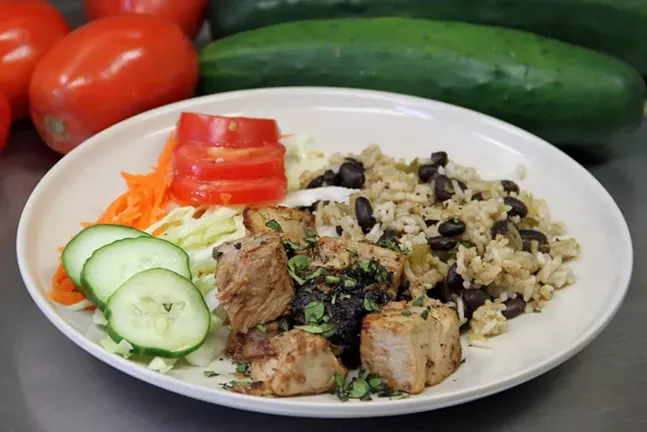 Despite recent headlines about a so-called U.S.-Cuba normalization — cultural-exchange trips, music and sports diplomacy, and the prospect of future waves of U.S. tourists — directors of Pittsburgh's Conflict Kitchen are repeating their Cuban iteration anyway. The take-out restaurant, run by local artists Dawn Weleski and Jon Rubin, changes its menu every three to five months to represent nations with which the U.S. is in conflict.
"It's important for us to revisit old iterations and continue that relationship with the immigrant population in Pittsburgh ... I think that this is a chance for us to expand the definition of 'conflict,'" says Weleski, Conflict Kitchen co-director. "For Cubans and Cuban Americans, there is not only an economic embargo going on, there's also an emotional embargo going on."
Weleski stresses that while the
U.S. removed Cuba from the list of states that sponsor terrorism
, the economic embargo on Cuba
is still in place
. She adds that unpacking the inter-generational feelings among Cubans and Cuban Americans regarding the Cuban government is what Conflict Kitchen is trying to communicate ... via delicious food.
"There's a great deal of complexity within those communities that the rest of America needs to understand," Weleski says.
The new menu features several dishes, including
lechon asado,
a slow-roasted pork dish;
ropa vieja
, a Cuban-style shredded beef in tomato sauce;
and
emapanada de picadillo,
an empanada filled with ground beef, tomatoes and olives.
"It's not just about the Cubano sandwich," Weleski says. She and the staff hope to demonstrate that by offering rotating specials — like
rabo encendido
, spicy braised oxtail, and
vaca frita
, crispy shredded beef — as well as a vegan okra stew.
"We're presenting Afro-Cuban cuisine, eastern Cuban cuisine. There's more diversity in the cuisine than most people would imagine," Weleski says.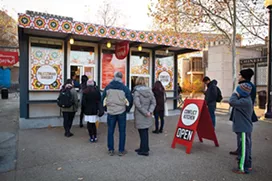 Weleski also says that by request from Pittsburgh's Muslim community, all chicken and beef used by the restaurant will be halal.
Conflict Kitchen made international news when it
received death threats because of its previous menu, a Palestinian concept
.
Educational pamphlets, featuring stories from residents of the countries represented — and which were the
centerpiece of debate during the restaurant's Palestinian iteration
— will be given with each take-out box of Cuban cuisine.
"We're the starting point for conversation," Weleski says. "When people are coming to the take-out window, they can revisit their ideas or opinions [and discuss] what have they heard in the news and media or among family and friends since [our previous Cuban iteration a couple of years ago]."
The staff gathered stories during a trip to Cuba and also collected stories from Cuban Americans in Pittsburgh and Miami. Other educational components will include an open discussion the week of June 21 in Schenley Plaza with local Cuban Americans, as well as a two-week rotation of guest Instragrammers from Cuba on
Conflict Kitchen's Instagram account
.
"What is important to us is creating a space where people are admitting their own ignorances. about things and becoming interested and passionate. They, as Americans, are also world citizens," Weleski says. "We want to engender a sense of curiosity about culture and politics in our customers."
Editor's note: An earlier version of this story incorrectly stated that Conflict Kitchen is a project run by Carnegie Mellon University's School of Art. According to the restaurant's co-directors, the restaurant is 95 percent supported by food sales, with CMU as its 501c3 umbrella to process any small grants received.