It started last Thanksgiving with the mention of there being sixty-some-odd dollar tickets for a Taylor Swift concert at Heinz Field in June. A collective, "Wow, that's not bad" by all family members present (who couldn't pick Swift out of a crowd, mind you) was followed by a promise to my 12-year-old niece that I'd take her. The lone fan in the kitchen, she'd been watching Taylor Swift videos on her iPad all morning, intermittently handing over one ear bud so I could listen/watch along to the video for "Blank Space," which had just been released as the second single off of
1989
, the explosive fifth studio album from the feathery bobbed pop cross-over star.
Two weeks after Thanksgiving, prompted by a gentle reminder from my boyfriend that
I made a promise
, I purchased tickets. Those sixty-some-odd dollar ones? Yeah, those were for single seats. Never mind that I own exactly zero Taylor Swift albums or songs. I had made a promise to my niece, whose only concert experience to date was Victoria Justice in Buffalo, which she said was "weird because there were rollercoasters" (I don't know, either). We were going to see Taylor Swift at Heinz Field in June, ticket price be damned.
Now, my niece and I are in the lower nosebleeds of Heinz Field's mustard yellow stadium turned glittery disco ball, jumping and screaming and having a
really good time
. So are 55,000 other Taylor Swift concertgoers, ranging from the hoard of mega-fans (the majority) to a subset of slight fans (possibly converted significant others), with a smattering of nonfan/credit card owners sprinkled throughout (parents, aunts and uncles, me). It's halfway through the show, and the force of our collective enthusiasm has caused the concrete stadium floor to pulse beneath our feet, something I have never, ever felt before at even the rowdiest Steelers games.
How did this happen?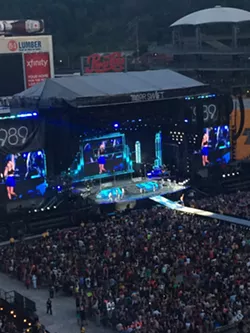 By the time Taylor Swift arrived on stage for her seventh concert of The 1989 World Tour—which started in Tokyo May 5 and most recently landed in Cleveland—her set list was well known to her fans (she would open with "Welcome to New York" and end with "Shake It Off," I was informed by my friend's 11-year-old daughter). In fact, every song on 1989 would make an appearance, plus a few previous pop hits from
Red
. Going into the show, the bigger mystery for many of us—fans and nonfans included—involved the thousands of little lights dancing like fireflies in the audience that seemed to make an appearance in every Instagram/Twitter/Tumblr pic I had carefully stalked in preparation for the show. I assumed the little flickers were just fans waving their cell phones. Nope.
Upon entering Heinz Field, we were each given a squishy translucent bracelet with no explanation. My niece and I put them on and spiraled up toward our seats in section 515, missing opener Shawn Mendes but catching a few of Aussie Vance Joy's acoustic set, which closed with his perkily dark ukulele sing-along "Riptide." Just before Swift took the stage, Calvin Harris' hit "Feel So Close" played over the speakers, no doubt a cheeky nod to her current relationship with the Scottish singer-DJ. This was lost on my niece, but I took it as yet another unapologetic wink from Swift in her sweep of the world, one calculated, leggy step at a time.
As the sun dipped below the highest row of bleachers, the screen behind the stage zoomed over a sea of nighttime skyscrapers, and out popped Swift from center stage, in all her "Welcome to New York" glory. Swishing down the catwalk in a sequined blue mini skirt and sparkly silver jacket, she beamed, as happy to see us as we were to see her. I had never heard this song before but goodness was it delightful, and easy to sing along to, which apparently I was dying to do for the next two hours.
During her second song, "The New Romantics," Swift acknowledged that it was clear that Pittsburgh knew every word to her songs, and, "If there's one more thing you should know about me, I was born in Pennsylvania, in 1989!" which resulted in 55,000 deafening "Woos," myself included. The squishy bracelets secured their role as the undisputable co-stars of the night when Swift moved from "Blank Space" into a heavy, breathy rendition of "I Knew You Were Trouble," quite possibly the climax of the show. Our 55,000 wrists pulsed red and were thrust into the air, setting Heinz Field aglow in blinking matchstick glory. Out came the pyrotechnics, and here, Swift secured her moment as an authentic, fan-focused performer who just wants to deliver pure fun.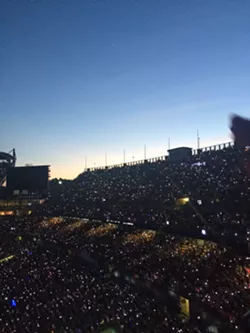 The set list deviated only slightly when Swift teased the crowd, saying, "Pittsburgh, honestly, the last two times that I've played here, I have said to myself, 'That is an incredible crowd. That crowd is located in the state where I grew up. Every time I go to see them, they go so far above and beyond. I need to do something special for them the next time I come back.'" Out came surprise guest Little Big Town, and somehow the fans' octave level increased. Swift temporarily dipped back into her country roots with her longtime friends, swaying together onstage as they sang "Pontoon," gangly arms outstretched.
By the time we had shook Heinz Field to "Clean," "Bad Blood," and "We Are Never Ever Getting Back Together," I'm fairly certain that more voices were lost and eardrums were damaged than the stadium had ever experienced in its 14-year concert history (sorry, 'N Sync). And then came the finale, "Shake It Off," the ultimate feel-good anthem for every daughter, son, mother, father, aunt, uncle, girlfriend, boyfriend, friend, nanny, and neighbor in the stadium, jilted or not. The concrete ground jumped as we did, our arms outstretched as high as possible, reaching toward the firework finale, our wrists turning Heinz Field into a blinking purple, green, and blue confetti party.
Now, after seeing her live, would I buy a Taylor Swift album? Odds are pretty good. Would I bust out my credit card to see her again in concert? Absolutely.