I came into the music of Dale Watson a little later than some folks.
I had previously heard "Nashville Rash" — his well-known anti-Music City anthem — once or twice prior to 2006, but never really investigated the artist who wrote and recorded it. It was about that time that his latest single, "Whiskey or God," popped up on my Pandora radio, I was hooked.
Since then, I've immersed myself in his catalog and tried to listen to every single song he's recorded. But that's proven to be a daunting task because Watson is a prolific songwriter who's made more than 20 records and recorded hundreds of songs. This past Tuesday, Watson released
Call Me Insane
, his 29th album, the follow-up to his Billboard-charting 2013 record,
El Rancho Azul
.
I
interviewed Watson
in January prior to a show opening up for rockabilly legend The Rev. Horton Heat and he talked about his writing process.
"I write most of my stuff on stage. I get inspired by the crowds and the whole scene. Or I'll write when it's my turn to drive the bus and I'm just looking out those windows," Watson says. "Very seldom to I sit down and write a song. It's just always felt natural to me."
Natural is a good way to describe the feel and flow of
Call Me Insane
. You never get the feeling that Watson is ever forcing a lyric, chord or emotion whether it's on the light and flirty "I'm gonna bug you for love," or the headier title cut.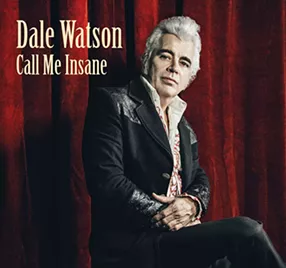 The song, "Call Me Insane" might be one of Watson's best tunes ever. It deals with territory that Watson has ventured into many times in his career — heartache. Typically playing with just his four-piece band, The Lonestars, Watson and producer Lloyd Maines added horns to this track. The horns, combined with Watson's steadily climbing vocals and the subtle, but powerful addition of Mike Bernal's drums make this song a bigger, grander production than we're used to from a Dale Watson tune. It's truly the greatest song on an album of really great songs.
The 14-cut record is rounded out by several memorable tunes including "Burden of the Cross," I'm through Hurtin'" and a song that Watson sang on his last visit to Pittsburgh, "Jonesin' for Jones," a tribute to country-music legend George Jones.
Watson will likely be singing that song and countless others when he returns to Pittsburgh to headline a July 19 show at the Thunderbird in Lawrenceville. The show was announced by his label, Red House Records, this morning.
The new record will a good primer for the show; and if you want to listen to all the old stuff before the show, you'd better get busy there's a lot of ground to cover.