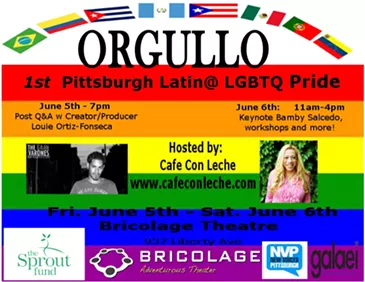 For the first time in Pittsburgh history, there will be a set of pride events specifically for the local LGBT Latino community this Friday and Saturday.
Organized through
Cafe Con Leche
, a local organization devoted to promoting Latino culture and creating "a space for dialogue and creative problem-solving", Tara Sherry-Torres (that organization's founder) came up with the idea of hosting pride events geared toward the Latino population about a year ago.
"One of the reasons I wanted to do this event is this is a space that's never been created in Pittsburgh," says Sherry-Torres, referring to opportunities among LGBT Latinos to talk about their experience of sexual orientation and gender identity. "For Latinos, really family is number one and what that does for people who may be gay or lesbian or bisexual [is] they may not necessarily be ostracized by their family – but there's a large part of them that's not acknowledged."
That's partly why Sherry-Torres is starting Latin@ Pride: to give LGBT Latinos a forum to share their experiences (Sherry-Torres uses the "@" symbol to be gender inclusive). The pride festivities are centered on two events:
The first event, on Friday, June 5, is a screening of
The Gran Varones,
which explores Latino gay and queer sexuality in Philadelphia, Sherry-Torres explains. The screening is set for 7 p.m. at Bricolage Theater, 937 Liberty Ave., Downtown.
The second event, on Saturday, June 6 (also at Bricolage) will include keynote speaker Bamby Salcedo, a "nationally recognized trans Latina activist." The event, which starts at 11 a.m. and runs until 5 p.m., also features Abbie Rosario, a local lawyer who "will speak on laws and legislation that affect LGBTQ Latinos."
These Latin@ Pride events are sponsored by the Sprout Fund, Bricolage and New Voices Pittsburgh, among others.
The creation of Latin@ Pride comes amid
backlash to the Delta Foundation's choice of Iggy Azalea
as its headliner, which some critics cite as evidence that Delta's pride events are mostly for affluent, white, gay men.
Sherry-Torres, who has attended Delta's pride since 2009, says she has always "felt welcomed" at Pride, but "I don't see myself reflected in delta leadership." She says she supports
Roots Pride,
an alternative pride that is aimed for queer and trans people of color (among other groups marginalized within the LGBT community) and will feature a protest of Delta at the Azalea concert.
Still, Sherry-Torres notes, "My event isn't really a criticism. Delta's going to do what they're going to do, so I wanted to create my own space."