Artistically and socially, this work of immersive theater had loftier goals than most plays, and it seems to be achieving many of them.
The
show
, written by Molly Rice, is structured as a slightly fantastical school-bus and walking tour of Braddock, North Braddock and Braddock Hills. The premise is that the town is home to an unusually high number of everyday (but still somehow otherworldly) saints, who are particularly liable to "emerge" – as if from the very soil – at just this time of year.
There's no real narrative, and the main character, as it were, is a rather mysterious, unnamed tour guide (played by the terrific Bria Walker), who herself has an aura of the otherworldly. With Rice's poetic, heartfelt writing, the show feels both grounded in reality (you're moving through the streets) and fabulous, as the tour guide tells stories that almost inevitably end up touching on the supernatural. All throughout are undertones and overtones of death and rebirth.
But there's still something more going on here than casual audience members might realize.
Rice has staged
Saints Tours
in other towns, including Manhattan. But this is the premiere of a version that was almost totally customized to the history, culture and people of Braddock that Rice, her spouse, Rusty Thelin, and Bricolage encountered in the year-and-a-half they spent preparing the show. (The production is credited to both Bricolage and Rice and Thelin's Real/Time Interventions.) The point of all that preparation was partly to connect the work, the audience and the community in new and deeper ways than traditional theater could — and, ultimately, to get everyone to see a hard-times mill town a bit differently.
That was all possible partly because of the immersive nature of Saints Tour. Immersion theater is quite a trend lately. Shows like British troupe Punchdrunk's
Sleep No More
, which opened in New York City in 2011, have inspired troupes everywhere to get audiences out of their seats while they're watching, if not actually participating.
The first such local production in Pittsburgh was, in fact, Bricolage's own
STRATA
, a insanely ambitious, thoroughly imagined 2012 production that sent visitors through a self-help-promising "refitnessing center" that took over a whole Downtown building. (Bricolage in turn was inspired largely by
El Eco de la Sombra
, a show staged here in 2008 by Spanish troupe Teatro de Los Sentidos.) All along the way,
STRATA
ticket-holders were required to interact with the production's multitude of actors, most of whom were improvising heavily themselves, and often to make choices about where to go and what to do on the labyrinthe set. Indeed,
STRATA
provided the exhilarating feel of being a character in an action movie, albeit one with decidedly satiric undertones.
Other immersive shows followed. Last year, Quantum Theatre's logistically daunting
Tamara
occupied another huge building, Rodef Shalom temple, to stage the 1981 play's interlocking series of 100 (!) scenes; it was all part of a single grand period melodrama of which audience members, following characters of their choosing from room to room, could by design see only a sliver at a time.
This past March, Uncumber Theatrics and Devious Maid Productions premiered
Professor Eldritch's Asylum for Uncanny and Extraordinary Women
, a cleverly wrought, energetically staged and thoroughly engaging work that sent audiences careening around a spooky, unoccupied house in Swissvale on the heels of a cast of eight, most of them embodying unnerving women from history. In April, Quantum was back with
All The Names
, a smart and involving adaptation of the Saramago novel that, again, took audiences from room to room.
These productions varied in the level of interactivity between audiences and performers — from mandatory, in
STRATA
, to very little in most of the others. But all of them were successful in one way or another; indeed, Quantum calls
Tamara
the biggest hit in its 25-year history.
But
Saints Tour
is singular in its goal of involving in its conception and execution the people, businesses and institutions of the community it's set in. In my
preview article for CP
, I noted the lengths to which Bricolage and Real/Time went to build bridges in Braddock, North Braddock and Braddock Hills, the communities through which the Saints Tour passes. All but one performer in the show is a local person; some of the art is by Braddock's New Guild Studio and kids in the Braddock Youth Project; and local folk help crew the show.
Even so, the payoff of all this effort wasn't apparent until I actually saw the show, last week.
Saints Tour
lacks not just a narrative: It doesn't even have any traditional conflict. (There are only two characters with speaking roles, and they never interact.) So most of what's left to pull you through is mere theatrical enchantment. One technique Rice employs is to build stories on actual local history, like references to U.S. Steel's historic Mon Valley Works, or tales of the Gypsies who once lived in town. Another is to incorporate into those stories random features of the physical environment — the junk piled in the dusty front window of a derelict building, the bricked-up windows of another structure – as though they were something besides the random effects of Braddock's historic depopulation.
Riding through the streets and other environs, the tour also devises what must be some of the longest downstages in the history of theater, with well-timed background action taking place up to hundreds of yards away.
Admittedly familiar as I was with the script before I attended, I was partly immune to some of the show's theatrical suprises. Rather, I was most engaged by the unscripted surprises you get when theater is staged outdoors, in a community full of curious neighbors.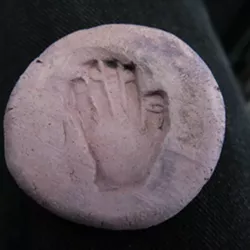 When I first interviewed Rice and Thelin, months ago, they said their biggest fear was that the tour would be perceived as a "safari," with groups of mostly affluent, mostly white visitors gliding through these mostly poor, black towns. Hence their collaborations with locals. But also, recognizing contemporary theater's tendency toward cultural and financial exclusivity, Real/Time and Bricolage made 40 percent of the show's tickets free to residents of the 15014 zip code.
That smart, sensitive move gave rise to exchanges like this one, as my tour last week trucked through North Braddock. "Why you ride through the hood?" one kid on the street yelled to the windows of our bus. "'Cause we from the hood!" answered a woman behind me.
One key scene was set in a garden. It was written for one character, but most of the audience couldn't have known that: By the time our tour bus arrived, the large, fenced garden was full of a half-dozen kids from the block who'd decided they were part of the show. (Performer TaeAjah Cannon, 16, herself a Braddock kid, did a great job keeping both the kids happy and the show moving.) And at scene's end, as we filed back toward the yellow bus, a white-bearded man who'd sat himself comfortably on a chair in the garden, gestured to the school bus and told us, "When I was in the Army, we used to call those cattle cars." Also not in the script.
Saints Tour
concludes with a modest but tasty community meal of soup, bread and a little dessert. Afterward, ticket-holders are asked to share their Braddock stories.
"It was amazing, and I salute you guys," volunteered one woman, who said she was 55. Though she was a lifelong Braddockian, she said the tour had taken her places she'd never before been. She'd taken advantage of the free tickets with her mother and cousin. "I'm so glad we got to experience this as a family," she said.
Another man, in his 60s, had grown up in Braddock and now lived in North Braddock.
"This is phenomenal," he said. He added a wry story about how, when he was young, his dad had forbidden him to work in the steel mill.
So, "phenomenal"? Apparently so, in more ways than one. Despite the ticket price of $60 (so high, in part, to offset those free tickets), the remaining eight shows of the
Saints Tour
's run are sold out.