Video by Ashley Murray
If you ask Rivers Casino workers, who held a protest earlier today, what they hope to get out of their
efforts to form a union
, nearly all say better health benefits.
"Better benefits — that's the big thing," says James Reinhardt, Rivers Casino employee of four years. "The workers at the Rivers Casino need a voice."
"We're working in a smoking environment that is bad for our health," says three-year Rivers employee Tulsi Subedi. "We should get better medical benefits. We need help."
Several hundred Rivers employees and union supporters gathered in Mellon Square Park today for a protest calling on Rivers Casino to fulfill the promise of "good jobs" that workers say Rivers management made when they first proposed the casino.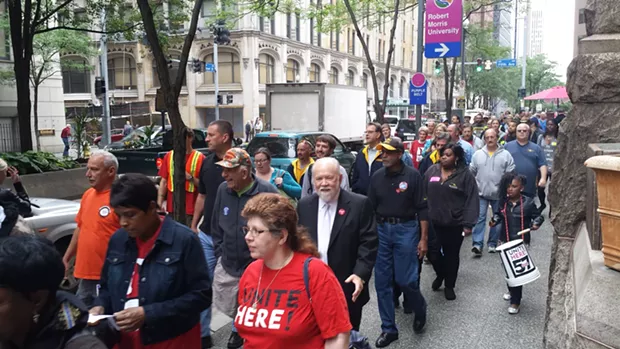 "We need to stop perpetuating the myth that the casino is one of the best places to work in the city," said Donna Spruill. "We want better wages. We want better benefits. And most of all we want a better attendance policy. The attendance policy is the worst. A lot of good people have lost their jobs because of it."
Since employees at the casino first began
unionizing
, workers have seen some improvements in the workplace, including the addition of sick days and vacation days. Their latest complaints center around what they say is a
strict attendance policy
at the casino.
"Since we went public with our cause we've seen some improvements," says Spruill.
Earlier today, Pittsburgh City Council passed a will of council supporting the efforts of Rivers Casino workers. District 4 Councilor Natalia Rudiak, who proposed the will of council, also attended the rally to offer words of encouragement to the protesters.
"When we all do better, we all do better," said Rudiak, who also supports the Fight for $15 campaign to raise the minimum wage.
Today's protest at the Allegheny County Courthouse coincided with Rivers Casino's license renewal hearing before the Pennsylvania Gaming Control Board. Supporters of the workers' organizing campaign testified at the hearing and delivered a petition signed by two-thirds of the hourly workforce who are demanding the casino "keep it's good jobs promise."