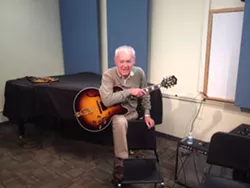 After
outcry from the local jazz community
over the Omni William Penn's decision to end Joe Negri's residency there, the hotel is bringing the venerable guitarist back for at least three shows later this summer.
It was "never the case" that the hotel was completely severing its relationship with Negri, explains Bob Page, the Omni's director of sales and marketing. "We just needed to make a change in entertainment for a little bit of variety to stimulate some additional business," he told
City Paper
last month.
And that's exactly what they're doing: Unlike the monthly gigs Negri played in the hotel lobby, the three summer shows will happen in the Terrace Room and cost $40 a head, which includes dinner.
"We are excited and hopeful that the Jazz community will come out to support Joe at the level that they did on his last gig in the Palm Court and feel that this will be a really great venue for this type of performance," Page wrote in an email.
The shows will happen June 25, July 23 and Aug. 27 and will run from 6-8 p.m. Reservations are required and can be made at 412-553-5235.