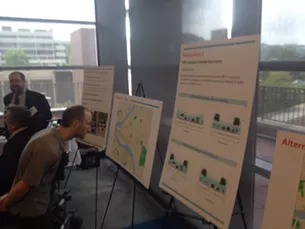 Tuesday afternoon, city and Port Authority officials hosted the first of two meetings this week on the status of Bus Rapid Transit — an initiative that could modernize bus service between Downtown and Oakland.
The event's main purpose, according to materials that were circulated, was to give the public a chance to "review and provide input on the project purpose and need as well as on the impacts on the social/economic environment, the physical environment and the transportation system." Such input is required to qualify for federal funding, which the transit agency hopes will pay for a significant portion of the project.
But the presentation itself did not make explicit exactly what kind of input was being solicited. That led to a discussion that mostly reiterated the
broad fault lines between the project's supporters and detractors
, which disappointed transit advocates who were hoping for a conversation that would engage the public on the different models for BRT construction that were presented.
"This is a hard process to figure out what's going on," noted Paul O'Hanlon, a transit and disability advocate. "I don't think there was anything today that facilitated brainstorming."
The city and Port Authority laid out five plans for BRT, which were presented via maps throughout a ballroom at Duquesne University: Three of the plans involve various combinations of bus-only lanes on Fifth and Forbes avenues. One of the plans would improve the bus system that exists "without implementing full Bus Rapid Transit," while the fifth would keep the system as it is now.
The event began with a presentation from City Planning Director Ray Gastil, who said that BRT is "critical" so that "Uptown is not just a place to drive through, but is a destination in itself." His presentation was framed largely through the lens of neighborhood development — and talked about the possibility that as part of an "EcoInnovation" district, the city could help attract development in Uptown.
"It really is an economic development argument [for BRT]," he told me after his talk. He added that BRT would target people who aren't already regular transit riders.
That line of thinking sparked responses that ranged from the argument that Uptown is already a well-served transit corridor that doesn't need hundreds of millions in transit infrastructure, to concerns about whether the city and Port Authority have already made up their minds about BRT. Other Uptown residents voiced their support, saying added transit infrastructure could revitalize the neighborhood.
Breen Masciotra, a Port Authority spokesperson, reassured the audience of roughly 100 people that BRT "is not a done deal ... there are no forgone conclusions."
The agency has said there will be more opportunities for public input in the coming months, including a second version of the same presentation tonight from 6-8 p.m. at the William Pitt Student Union, 3959 Fifth Ave., in Oakland.