Most estimable works of literary art are arguably "about" everything — or, at the very least, they're about life and death.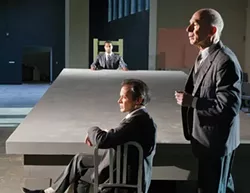 So it is with Jose Saramago's
All the Names
, as well as Quantum Theatre's terrific
adaptation
of the Pulitzer-winning 1997 novel.
The story — about a clerk who quietly (and fearfully) defies the gigantic bureaucracy that employs him to go on a sort of latter-day knightly search for a mysterious (and anonymous) woman – is fairly slight. But Saramago's vision, as faithfully translated to the stage by Quantum, is large enough to encompass questions about identity (how it's formed, what it is), epistemology (what it means to "know" something) and more.
More than simply inhabiting an old building, the show is truly site-specific, with the decommissioned Carnegie Library of Allegheny standing in for the government hall where "all the names" are kept. And this original production, a collaborative creation of Quantum's Karla Boos, Barbara Luderowski of the Mattress Factory and other artists, makes imaginative and expansive use of several rooms in this old North Side landmark (so be prepared for a little walking).
Here's Tyler Plosia's
review
for
CP
.
There are four more performances beginning with tonight's.
Tickets are $38 and available
here
. Expect thematically appropriate snackies and a little drink at the intermezzo.
The former Carnegie Library of Allegheny is located on Allegheny Square on the North Side (part of the same complex as the
New Hazlett Theater
).