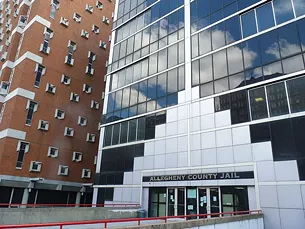 For the first time since
overwhelmingly voting
to form a union last year, medical staff at Allegheny County Jail reached a labor agreement with Corizon Health — the private company responsible for health care at the jail.
The three-year agreement, reached late last week and disclosed by union officials today, covers 116 workers. It includes wage increases, advance notice of work shifts and more consistent assignments, according to United Steelworkers organizer Bernie Hall who worked with jail medical staff.
"It gives the employees a seat at the table," Hall says of the new contract. "These are the folks who are actively working with the patients in the jail — now they have some input on the direction of that care."
Teresa Latham, a nurse at the jail who was involved in negotiations, says there will be salary increases of anywhere from three to seven percent, schedules will be provided a month in advance and health-care workers will receive assignments that better relate to their experience and expertise. Neither Hall nor Corizon would immediately provide a copy of the contract.
"In the 14 years I've been there," Latham says, "we've never felt the need to organize or seek protections because conditions were nowhere near what they are now." She says ongoing problems with staffing levels and the
availability of appropriate medications
make it difficult to consistently provide basic care for inmates.
Asked to comment on the new contract, a Corizon spokesman wrote, "We are unable to disclose details at this time, but as soon as information is available we will provide it."
Allegheny County spokeswoman Amie Downs declined comment, saying the contract was between jail workers and Corizon.
Update (4/30/15): Late yesterday afternoon, Corizon released the following statement:
Corizon Health today announced it has reached an agreement with the union that represents medical staff at the Allegheny County Jail. The new three-year agreement, reached with United Steelworkers, includes a wage increase of 3 percent the first year of the contract and 7.5 percent over the life of the contract, new policies for scheduling and preferred medical assignments.
"We're pleased to finalize an agreement that is very fair for both sides," said Susan Schranze, Chief Operating Officer, Northeast Region, Corizon Health. "Both parties negotiated together in good faith, made compromises, and produced a robust and responsive agreement. The agreement includes a wage increase, addresses requests by employees for primary assignments, and offers clear and equitable guidelines for planned time off. In addition, labor management meetings have already begun to ensure a positive working relationship with medical staff by establishing a formal mechanism to partner on issues. Corizon looks forward to building upon our relationship with our staff, who do outstanding work every day."