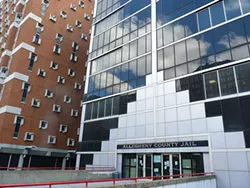 Timothy Haskell, a 49-year-old inmate at the Allegheny County Jail died Friday, county officials said today.
The medical examiner's office said an autopsy was completed but is waiting on further blood work to determine the cause of his death. County spokeswoman Amie Downs confirmed he was an inmate and was "declared dead at [the jail] by the EMS physician."
Electronic court records show Haskell was incarcerated April 3 for a misdemeanor charge. The medical examiner's office could not provide a home address and the public defender listed in Haskell's court records could not be reached.
A spokesman for Corizon Health, the private company that provides health care at the jail, did not immediately respond to a phone call and email seeking comment. The company has drawn criticism for the
jail's death rate
, which is higher than average.
Update (10:33 p.m.): Corizon Health responded with this statement:
"Corizon is greatly saddened by the passing of any inmate. Per our protocol following any patient death, we undertake a comprehensive assessment of care provided. Due to patient confidentiality requirements, we cannot comment further."
Editor's Note: Due to incorrect information provided from the county spokesperson, an earlier version of this story reported that Haskell was transported to UPMC Mercy.