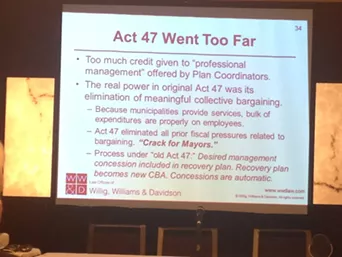 In a roughly four-hour opening presentation this afternoon, attorney Richard Poulson sketched the framework for what will be the police union's major argument in contract arbitration: that the city is more financially solvent than its "financially distressed" status makes it seem and can afford to pay officers more and increase other benefits.
"If you came down from Mars, you would have no idea this city is distressed," said Poulson, an attorney at Willig, Williams & Davidson and outside counsel for the union.
Poulson said the union would not put forward "a specific wage proposal" but was looking for "fair raises over the course of the contract that reflect the skill and risk involved in policing."
Negotiations between the police union and the city over the past several months have stalled. (
This morning,
for instance, the parties couldn't even agree where to hold the arbitration sessions.) And since public-safety unions aren't legally allowed to strike, a three-panel arbitration panel is charged with making a final decision on the contract when traditional negotiations don't yield a deal. The panel will hear 10 days of testimony: five from the union and five from the city — and
for the first time, those proceedings are public
and being held at Downtown's DoubleTree hotel.
Much of Poulson's opening argument hinged on an interpretation of Act 47, a state oversight program for financially distressed cities like Pittsburgh that, among other things, creates a financial-oversight mechanism that can dial back what municipalities spend in labor contracts.
At one point, Poulson said that Act 47 "is like crack for mayors," because of the limits it imposes, adding Mayor Bill Peduto "loves it."
A lawyer representing the city, in a formal objection to the focus of Poulson's overall presentation, said, "We're not here to put [the] Act 47 plan on trial."
The city's current Act 47 plan establishes a cap of a 7 percent raise over five years, Poulson said. But because of amendments to the law that allow for exceptions to the cap if it is "arbitrary, capricious and imposed in bad faith," Poulson said the panel could exceed that number.
Mayoral spokesman Tim McNulty says he will leave it to city lawyers to respond to claims made about Act 47, but characterized the union's testimony as "hyperbole and platitudes that were devoid of facts."
The city, he added, is "going to show that the city is progressing financially and isn't out of the woods yet."
The last police contract, which took effect in 2010, included a 9.5 percent salary increase over five years and a signing bonus of $2,000; the 2005 contract included a two-year wage freeze, but a 7.5 percent raise over five years, according to Poulson. The current base salary for a first-year officer is $42,548 (close to half of the nearly 900-member force earns at least $63,514, McNulty says).
Though the union isn't a seeking a specific percentage raise, it argues that a 40 percent salary increase would put city officers only in the middle of the pack among county police departments (though the union acknowledged that it is not likely to get an increase close to that number). The union reiterated its arguments that past salary increases aren't significant enough to retain officers, who often leave for higher-paying jobs outside the city.
"Morale in this department is in the basement," Paulson said. "This used to be
the
job. Today, it feels like the job of last resort."
The union's presentation will resume tomorrow at 9 a.m. at the DoubleTree.