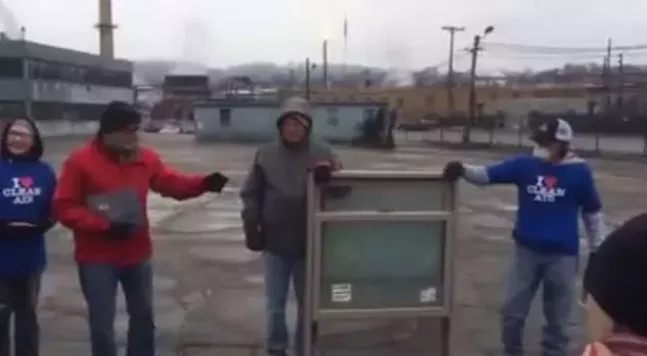 To mark the first day of spring, area residents from northern city neighborhoods and boroughs, including Avalon, Brighton Heights and Ben Avon, presented a "Closed-Window Award" to DTE Energy's Shenango coke plant on Neville Island. The award, which was taken to the plant's front gate, was an actual closed window.
"We talked to a guard who said, 'You can't be here,' but we said, 'You know you just won a very prestigious award.' The whole thing was very tongue-in-cheek," organizer Tom Hoffman told
City Paper
after the event. Hoffman consults for the group Allegheny County Clean Air Now, a community organization concerned about air quality in the neighborhoods surrounding the Shenango coke plant.
The dozen residents who presented the window award this morning did so because of foul odors they say they can smell from the plant.
"This community has a lot of old houses. I still have radiator heat, so when it's hot outside, there's no central air [conditioning]. You either open the windows and smell Shenango, or keep them closed and swelter," said Leah Andrascik, a member of ACCAN and resident of Avalon, which is across the river from the Neville Island plant. "I got involved in this because I have two small kids, a 3-year-old and a 20-month-old. Last summer, I noticed there were more days than I could count that I had to bring them in because it smelled so bad. I'm not sure what they're breathing in when it smells like that. So we go inside and kind of hunker down."
Andrascik says the odors are difficult to explain but sometimes smell like rotten eggs or chemicals.
DTE Energy, the owner of Shenango, Inc., says it wasn't contacted by the group of residents who came to the plant's gates this morning but that the company saw it on social media.
"While odors are subjective and can originate from many different sources, we are continuously evaluating our systems to determine if any issues could be contributing to the concerns across the river," said a spokesperson for DTE Energy.
DTE Energy says residents should call 412-777-6600, if they smell a foul odor.
"Since being acquired by DTE Energy Services, Shenango has improved its environmental performance to comply with over 100 federal, state and county regulations," said the DTE Energy spokesperson.
The company
entered into a consent agreement
with the Allegheny County Health Department last April regarding emissions limits. There is also a
pending lawsuit
against the plant for emissions limits violations, which was filed last May by the local organization Group Against Smog and Pollution.