As early as April, Port Authority riders will be able to load virtual cash and passes on their ConnectCards through a web portal instead of at vending machines or retailers, the agency announced this morning.
But there's a catch: The website won't update ConnectCards in real-time; the process will likely take several hours — or up to a day in some cases.
The move is part of the transit agency's attempt to modernize and give riders more flexibility, says Thomas Noll, PAT's director of technical support and capital programs.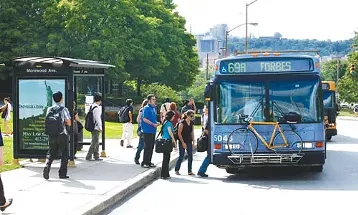 The new web portal will allow users to use a credit or debit card to add cash; buy passes; set up recurring passes that will automatically bill the relevant card; and let riders to manage multiple ConnectCards from a single account (such as parents who want to add virtual cash to a child's card).
The website will also allow users to load passes up to a month in advance of their use and add fare products "anonymously" to their ConnectCard without the agency storing personal information, Noll says.
So why won't the cards get information from the web portal in real-time?
Noll explains that the authority's busses and trains aren't equipped with cell technology that lets them connect with the internet.
Fare information taken from the web portal "is relayed to our central computer system," Noll says, but "that information needs to get on a bus."
The only way a bus will get updated information is when it visits a garage, which happens at least twice a day: when it leaves at the beginning of a run and returns at the end.
"When you add a cellular device" to every bus in the system, "it adds cost," Noll says.
Still, the web portal will likely represent a significant improvement from the current system, in which a rider must visit one of 61 vending machines or roughly 69 retailers to load their cards.
For now, the authority doesn't have plans for a mobile app; the only web interface will be the agency's website.
The new portal is in a pilot phase with 60 riders — and barring any hiccups, Noll says, "We should be ready to go next month."