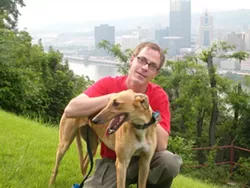 Downtown's
Images Bar
has remained one of Pittsburgh's most popular gay bars for years. In a drag-show fundraiser tonight, the bar aims to support a staff member who has been serving the LGBT community since long before Images even existed.
Images bartender Rodney Dececchi suffered a stroke on Feb. 11 and remains in the Neurological Trauma Step Down Unit at UPMC Mercy Hospital after two weeks in the Intensive Care Unit.
Tonight, 50 percent of bar sales at Images as well as any donations will go to support Dececchi during his recovery and rehabilitation.
Hosted by local drag queens Lola LeCroix, who was featured on
CP
's 2015
wedding issue cover
, and Marsha Monster Mellow, there will be performances by the queens, whose tips will also go toward helping Dececchi. Other musical entertainment will accompany the queens, who will be on the microphone all night.
"Rodney's been in the industry for years. He goes back all the way to the old Pegasus and Pittsburgh Eagle days. He's been everywhere," says LeCroix. The stroke has left him unable to speak and with no mobility on the right side of his body. "We're all hopeful he makes a full recovery," LeCroix added.
The fundraiser takes place tonight from 8 p.m.-midnight. There is a $5 suggested donation.
Images is located at 965 Liberty Ave.