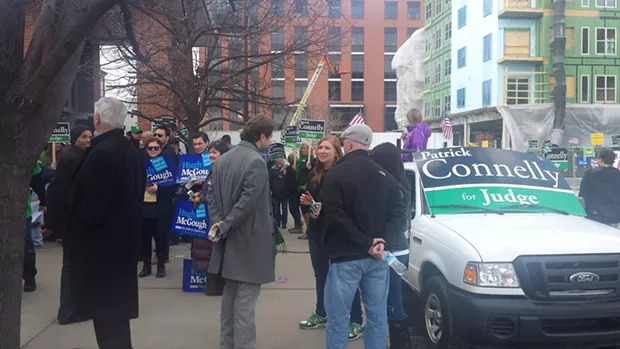 Bagpipers, street food vendors, and green shamrock T-shirts. Passers-by might have mistaken today's festivities at the International Brotherhood of Electrical Workers local union headquarters in the South Side for an early St. Patrick's Day celebration.

But the event was the Allegheny County Democratic Committee's annual election endorsements where committee members cast their votes to decide which candidates the party should endorse in the upcoming May primary election.
The annual event draws some of the region's most powerful committee powerhouses and longest reigning political families. But though the event is steeped in tradition, some have begun to wonder if the endorsement process should be changed.
"The committee loves the process but a lot of the voters think we're out of date," said Nancy Patton Mills, chair of the ACDC. "What we want to do is keep the Democratic party relevant."
Video by Ashley Murray
An estimated 1,700 votes were cast at today's event which saw several new committee members voting for the first time.
"I think it's important for the voters," says Sierra Parm, a new committee member. "It helps streamline the process for them."
Outside of the endorsements, candidate tables lined the sidewalk to greet each committee member as they walked through. Volunteers also took the opportunity to collect signatures for election petitions and to campaign for their candidates.
"There are people who believe the endorsement has a lot of credibility, and historically that's been the case," said Ola Jackson who was working a table to support judicial candidate Rosemary Crawford.
But times are changing. In recent years, candidates not endorsed by the ACDC have won elections, including now Mayor William Peduto who did not seek the endorsement in 2013.
"I think we should get rid of endorsements," said Sam Hens-Greco, 14th Ward Democratic Committee chair. "We spend a tremendous amount of money and time on them, and there's more the party could be doing."
Attitudes like this are part of the reason the ACDC plans to hold a convention this summer to re-examine the committees bylaws and endorsement process.
"We may make some adjustments, but we won't be eliminating them," said Mills. "You can see the committee people love it. Everyone's having a ball."