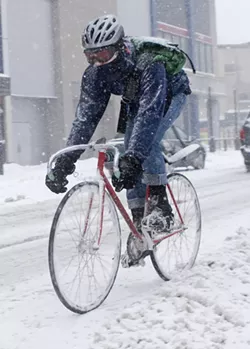 Tomorrow is Bike Pittsburgh's first ever Winter Bike to Work Day, and yep, the event will continue despite the snow.
"We definitely won't be rescheduling it again," says Bike Pittsburgh's Ngani Ndimbie, who notes the original Feb. 27 date was cancelled on account of subzero temperatures. "We're trying to promote biking as a thing that can be done year-round."
To encourage people to brave the salt, snow and potholes, anyone who bikes to one of
these eight coffee shops
around the city from 7-9:30 a.m. will get a hot drink on the house. About 2.2 percent of Pittsburghers commute to work by bike, a number the local non-profit is trying to increase.
If you're nervous about biking in the snow, here are some
handy
blog
posts
about how to adjust your riding style and what gear you might want.
But if the thought of getting mowed down by a snow plow freaks you out, either check which routes have
already been plowed
, or hang tight for a few months until the spring version of Bike to Work Day — this year, on May 5.