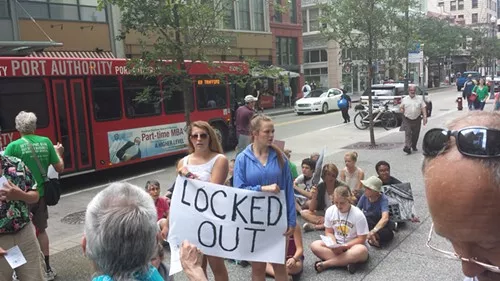 With the March 2 release of its new Financial Responsibility Report, PNC Bank tightened its restrictions on funding mountaintop-removal mining projects.
Mountain-top removal (MTR) is a form of strip-mining practiced in West Virginia and elsewhere. The process lops off the tops of mountains to get the coal beneath; dislodged rock is frequently dumped into nearby valleys. Environmentalists say the process harms wildlife, contaminates drinking water and endangers community health.
PNC has been the target of several actions in the past few years from environmental groups, mainly the Earth Quaker Action Team (EQAT) and the Rainforest Action Network (RAN). Last July, more than 200 EQAT protesters
swarmed PNC branches and its Downtown headquarters
and urged customers to divest from the bank until the policy changed.
According to the company's report: "Our businesses implemented a number of important changes in 2014 to make
environmental considerations a more prominent factor in PNC's lending while still balancing those considerations with the economic needs of the communities we serve. As part of these efforts, we enhanced PNC's mountaintop removal (MTR) financing policy. Due to environmental and health concerns, as well as our risk appetite, our MTR financing exposure has declined significantly over time, with current exposure to firms participating in MTR representing less than one-quarter of one percent of PNC's total financing commitments, and it will continue to decline."
Members of EQAT called the policy change a "win."
"When we initiated our campaign in 2010, PNC attempted to placate us with a hollow policy. It's good to see that PNC Bank is now taking meaningful steps," says Matthew Armstead, staff coordinator for EQAT. "Since this shift happened because of external pressure, it should be a wake-up call for everyone that the power of change lies with regular citizen activists."
PNC has long publicized its environmental agenda, touting the green-building principles being used in its Tower at PNC Plaza project currently underway Downtown. And in 2010, the company announced that it would no longer provide financing to "to individual MTR projects" nor to "coal producers whose primary extraction method is MTR."
But environmentalists say little changed, in part because there are no coal producers who use MTR as their principal extraction method. Rainforest Action Network, which issues an annual report card on banks' energy policies, found that in 2013, PNC provided $211 million to companies engaged in MTR, and that PNC ranked seventh among 12 banks for financing firms that used MTR. (The financing was for companies that engage in MTR, but not necessarily for specific projects, which PNC's policy forbids.) That's far less than the $687 million in financing PNC provided in 2012, when it ranked third among lenders supporting MTR businesses, but RAN attributes the drop to a decline in coal demand and other business factors.
Monday's move, activists say is a "positive step."
"PNC took a big step in the right direction today by acknowledging the serious health and environmental impacts of mountaintop removal, and by committing to reduce its exposure to this toxic practice. We'll be scrutinizing PNC's future financing decisions to see how this new policy is implemented," said RAN Climate and Energy Program Director Amanda Starbuck. "Overall, we see today's news as indicative of a broader trend within the financial sector. Banks no longer want to be associated with a dangerous, abhorrent practice like mountaintop removal; there is an emerging financial industry consensus that these practices are unacceptable. Concretely, this means mountaintop-removal companies will have a harder time securing financing to operate and expand in the future."
Members of EQAT said Monday's announcement is "a major victory from a long campaign."
"In our early encounters with PNC, they didn't take us or this issue seriously. We showed them evidence, delivered them Appalachian water poisoned by mountaintop removal, and brought them face-to-face with residents hurt by this practice," says George Lakey, a retired teacher who was arrested twice during the campaign. "We had to take direct action for them to see the light."