A great-niece of Andy Warhol is making
Uncle Andy: The Andy Warhol Family Film
, a feature-length documentary that's now in production and seeking funding via Kickstarter.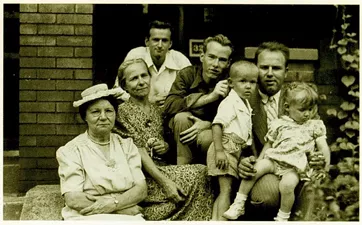 Abby Warhola, a Pittsburgh-based photographer and filmmaker, has teamed with local artist Jesse Best to produce and direct the film, which they tout as the first-ever project examining Warhol from the perspective of his family.
Abby Warhola's grandfather, Paul, was Andy Warhol's oldest brother; he died in 2014, the last surviving member of Warhol's immediate family.
The Kickstarter campaign will run 31 days and seeks to raise $175,000.
The campaign's web page
includes five minutes of sample footage, including interviews with Warhol's nephews Marty Warhola and George Warhola, who remain in the scrap-metal business in town here.
"
Uncle Andy
will provide the most personal look at Andy's life and legacy to date, all through the eyes of his immediate family, the Warholas — siblings, nieces, nephews, and others," the filmmakers write in a press release announcing the campaign.
"We have been capturing rare footage, including from family members who have since passed away, for several years," they add. "When completed, this feature-length documentary will be the first time audiences will discover a side of Andy that only his family knew. They were with Andy from the beginning, and like flies on the wall, they witnessed firsthand his unprecedented transformation from humble son of a working class Pittsburgh family into one of the most important and celebrated artists in history."
To many, Warhol remains much more closely associated with New York than with Pittsburgh, where he was born in 1928.
But as Eric Shiner, director of
The Andy Warhol Museum
, says in the release: "Andy Warhol was a family man. Although he left Pittsburgh within weeks of graduating from Carnegie Tech, he stayed in close contact with his brothers and their children via weekly phone calls and their regular visits to see him in his new home of New York City. This film will expose a side of Warhol the very few people have ever seen, and I know it will shed new light on Uncle Andy."
On its first day, the Kickstarter campaign looks like it's off to a good start, with about $5,708 raised as of 10 a.m.
There's more info at
www.warhol.com
.