After a year of meetings, the
mayor's education taskforce
released a report today including 18 recommendations on ways the city and public schools can collaborate.
"One year ago today we were fighting about school closings. We were fighting about teacher evaluations," said Mayor Bill Peduto. "In less than a year this taskforce..has healed the wounds of a previous decade."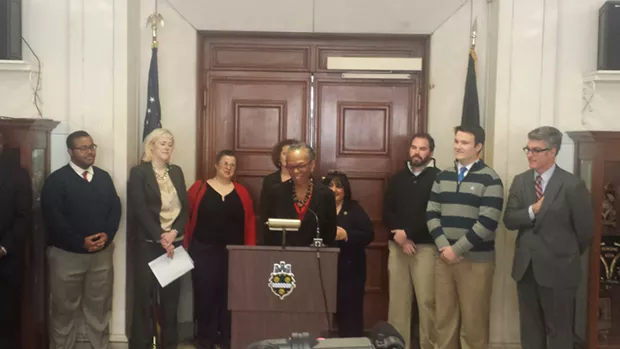 The 21-member taskforce was originally proposed in 2013 in response to news that the district planned to begin another round of schools closings. The resolution proposed by city council, at the the time, was also critical of the Pittsburgh Public Schools District's teacher evaluations.
Taskforce members, who include representatives from the district and city government, along with parents, teachers and students, say their efforts have led to greater collaboration between the district, teachers union, and city government.
"We can't just be in separate silos," said school board representative Terry Kennedy. "It's not just the taskforce. It's about informal meetings."
The report released today includes recommendations related to public safety, an area Superintendent Linda Lane says she's already seen improvement. Lane said she recently met with police chief Cameron McLay to discuss ways the Pittsburgh Bureau of Police can collaborate with district police.
"There's a tighter collaboration, especially trading information, that can help especially with public safety," said Lane.
Other recommendations might take longer to come to fruition. One area of collaboration includes developing and implementing a community schools model that would offer integrated service like healthcare to students and their families.
"We're talking about the model now," said Lane. "We don't have a timeline in place."
Other recommendations included marketing the district's strengths, like the Pittsburgh Promise scholarship, in order to attract more families to the city and district. The report also recommends collaboration in out-of-school programs and advocating for state funding.
"If we don't collaborate we're going to continue on a downward spiral," said Coulcilwoman Theresa Kail-Smith who first proposed the taskforce.