One of the more distinctive things about local playwright Gab Cody's romantic farce is that its dramatis personae include the young Friedrich Nietzsche. If that scares you off, it shouldn't: While it's a hook of sorts, Nietzsche's presence occasions a proudly non-biographical portrait of the philosopher while also being, narratively, a rather minor element.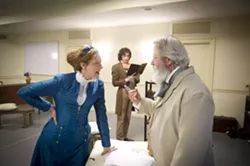 That is, aside from a few sly references to Nietzsche's future work (and some clever pre-show piped-in music), this "Fritz" is simply a type of the young male farcical lead: lovestruck, bookish, thoroughly self-involved. He just happens to also be a spoof of the guy who'll eventually write
On the Genealogy of Morals
.
Cody's wickedly smart writing brings Fritz to life along with such other types as the coquette; the pompous and vainglorious man of affairs; and the strident ideologue. (Here's my recent
profile
of Cody.)
True,
Prussia
explores — and lampoons — the literary life, early feminism, the upper class, and religious bigotry in 19th-century Europe. But don't fear those themes any more than you should a character based on Nietzsche before his brow beetled: This is first and foremost a screwball comedy of quips, wordplay, sex jokes and pratfalls and other physical comedy.
And in fact, nobody excels at the latter more than Drew Palajsa, the talented young actor (and recent Point Park grad) who plays Fritz. He's a rubber-limbed wonder, especially in the play's second act.
Here's Michelle Pilecki's formal
review
of the show for CP.
Prussia: 1866
has five more performances at the Pittsburgh Playhouse, tomorrow night through the Sun., Feb. 22, matinee. Tickets are $7-27 and are available
here
.
The Playhouse is located at 222 Craft Ave., in Oakland.