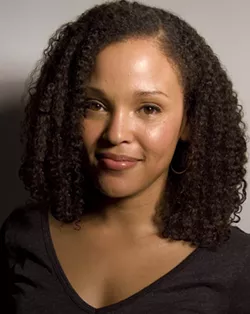 When she writes, "he wanted more for himself, but he didn't know how to get it," in her 2013 memoir
Men We Reaped
, Jesmyn Ward is thinking about a black man she knew who died too young.
However, she might as well have been speaking about current events, and the explosive racial politics of the past year.
In a Pittsburgh Arts & Lectures
literary evening
at Carnegie Music Hall, Ward shares stories from her memoir, which follows her emotional state through the loss of five young black men, one of whom was her brother, and her relationship with her father.
Men We Reaped
makes observations about race and masculinity in the American South, and touches upon police relations, drug use and infidelity. A portrait of the rural South, the memoir ask readers to examine the loss of young black men and how this tragedy can be avoided in the future.
Ward, a professor of English at Tulane University, won the 2011 National Book Award for Fiction for her second novel,
Salvage the Bones
.
Ward speaks on Mon., Feb. 9 at 7:30 p.m. Tickets are $35.
Carnegie Music Hall is located at 4400 Forbes Ave., Oakland.
The event is presented in partnership with the United Black Book Clubs of Pittsburgh.