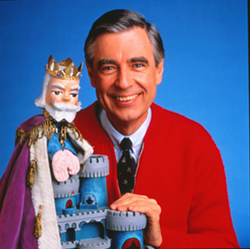 Mr. Rogers said it better than almost anyone else: "One of the greatest dignities of humankind is that each successive generation is invested in the welfare of each new generation."
In a
discussion
tomorrow at the Heinz History Center, Maxwell King, president and CEO of the Pittsburgh Foundation and Fred Rogers biographer, reflects upon the indelible impact Mr. Rogers had on early-childhood education. Joining him is Eliot Daley, former president of Small World Enterprises, Inc., which owned
Mister Rogers' Neighborhood
.
The discussion takes place in conjunction with the opening of a
new permanent installation
in the History Center's special-collections gallery, marking the first time artifacts from
Mister Rogers' Neighborhood
have been on long-term view to the public.
Included are iconic pieces such as King Friday XIII's Castle, the Great Oak Tree and Mr. McFeely's Speedy Delivery tricycle, along with a life-like museum figure of Mr. Rogers wearing his familiar sweater, necktie, khakis and sneakers.
"This is the most elements of the set together in one place," says Emily Ruby, a curator at the History Center. "It's such an important part of national history and it happened right here in Pittsburgh, so that's why it's really important to us to unveil the Neighborhood. He's living in our special-collections gallery right now where we talk about Pittsburgh neighborhoods. He's essentially the introduction to these ethnic groups and neighborhoods that make Pittsburgh what it is."
This discussion itself will examine the early influences on Fred Rogers' creativity and work that led to one of the most influential children's programs in television history. Its focus will range from his childhood to his work on
The Children's Corner
, the 1950s prelude to his
Mister Rogers' Neighborhood
and the birth of The Fred Rogers Company, which now produces an array of children's programming.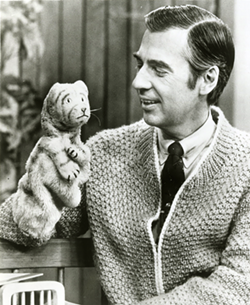 "1968 [when
Mister Rogers' Neighborhood
premiered] was a really volatile year," Ruby says. "This is the year Martin Luther King, Jr. was assassinated and Bobby Kennedy. I think [Rogers] knew how to talk to children and connect with them about what's going on in the world. He didn't shy away from hard topics and that's why the show was so popular. Even from those very beginning stages he took children seriously and respected them, and I think children can sense that."
The discussion takes place at 4 p.m. tomorrow.
Tickets are included with the price of admission
The installation will be on permanent display at the Heinz History Center, 1212 Smallman St., in the Strip District. The history center is open 10 a.m.-5 p.m. daily.
Admission
is $6-15 and free for kids under age 5.