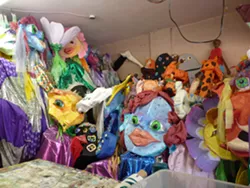 "One, two, three, four, five, six, seven, eight ..."
Big, neon-colored paper-mache bird heads march up and down a concrete stretch as a dancing puppet drill team practices in artist Cheryl Capezzuti's driveway in Brighton Heights. See-through fabric covers the dancers' faces — their dancing human legs stick out at the bottom.
"It's really meant to be fun," says Ellie Voyvodich, parade project manager. "Our theme this year is 'Imagination: Delivered'" — a nod to the parade's sponsor FedEx.
Nearly 300 of these puppets will march down Penn Avenue for the annual
Pittsburgh Cultural Trust First Night
New Year's Eve celebration, as they have for more than a decade. Giant bees, penguins, giraffes, and flower puppets will join decorated "art cars" — including a sedan disguised as a sabre-toothed octopus — as well as decorated pedicabs — look out for a fox and elephant pedaling on Penn. The parade will even feature a puppy dog dance drill team (puppets, not real puppies) and, yes, dryer lint puppets.
Supporting the hundreds of puppets and providing the parade's soundtrack are nearly 700 volunteers, musicians and drivers. Several area marching bands will be featured, including the Ambridge Steel Drum Band, Perry High School Marching Band, the Timbeleza samba/funk ensemble, the Hill Jordan & Slide Worldwide brass band, the Pittsburgh Steeline drummers and the Colonel Eagleburger's High Stepping Goodtime Band.
"It is fun and artistically valuable work, but it is also important community-building work," says Capezzuti, visual artist and puppet maker who also teaches middle school art at Falk Laboratory School, which is associated with the University of Pittsburgh. "I hope this artist-made, people-powered celebration resonates with the greater Pittsburgh community as it does for the participants."
The parade begins on New Year's Eve at 8 p.m. at the David L. Lawrence Convention Center on Penn Avenue and will turn right on Sixth Street toward the Allegheny River.