Produced by Ashley Murray
At a table near the wall in a small dining room Jody Young ate his ham, potatoes au gratin, peas and a roll. Behind him was a cafeteria-style window, and volunteers grabbed plates from the counter.
"Having all these people here, it's joyful for me, " Young says. "I've been in this program, and we usually help ourselves [to meals]. It's a different experience for people to wait on me for a change."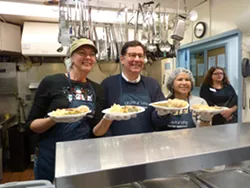 For four hours, the
Light of Life Rescue Mission
on Pittsburgh's North Side served hot meals for its annual Christmas banquet. Several of the nearly 100 volunteers (and a small media swarm when Peduto stopped by) filled the dining hall, while others helped distributed coats, hats, blankets and bags of toiletries in a tent set up just outside the mission. Volunteers also delivered several meals to nearby high-rise apartment buildings.
"I reside here," Young says. "This place has saved my life. I was down and out, and this place brought me back to God again. I've lost a lot, but I'm gaining a lot since I've been here."
The Light of Life Rescue Mission is a Christian-based organization that serves hundreds of people each year with meals and an emergency men's shelter - which can sleep up to 38 men at a time - and a homeless program for women with children in which they are housed in off-site apartments. Additionally, the organization provides long-term addiction recovery programs and case management.
"The organization is 62 years old now," says Kate Wadsworth, public relations manager. "It started as a soup kitchen, and once they saw the many other needs, it's really expanded over the years to what it is today."
The location is open 24 hours per day every single day of the year.
"Usually the men who come to our 90-day program, usually aren't there for recovery support," Wadsworth says. "They just need an address for their resume and case support. Primarily, the men and women who come to our long-term programs are homeless because of addiction."
The main cook behind the holiday banquet meal actually graduated from the program several years beforehand.
"When my dad passed away in 1987, I really took it hard, and I just started medicating myself, you know, with alcohol," says Kevin Hutchison, who talked in between preparing pans of potatoes. He said when his mother passed away in 2003, his bottom fell out and he didn't want to live anymore. He eventually did 18 months in a the Light of Life program. In 2006, he was hired to work in the kitchen there. "Not only myself, but our residents, my co-workers here, some of us have come from brokenness. So to see others that have been given a hope-shot, and have turned their lives around [is hopeful.]"
The mission also holds big holiday meals for Thanksgiving and Easter.
"We provide good, traditional meals and a community for those who may not have one," Wadsworth says. "We don't want anyone to be alone or not able to enjoy a good meal on days like this."