Five performances remain of this entertaining and poignant world premiere about mid-century stage and film star Judy Holliday.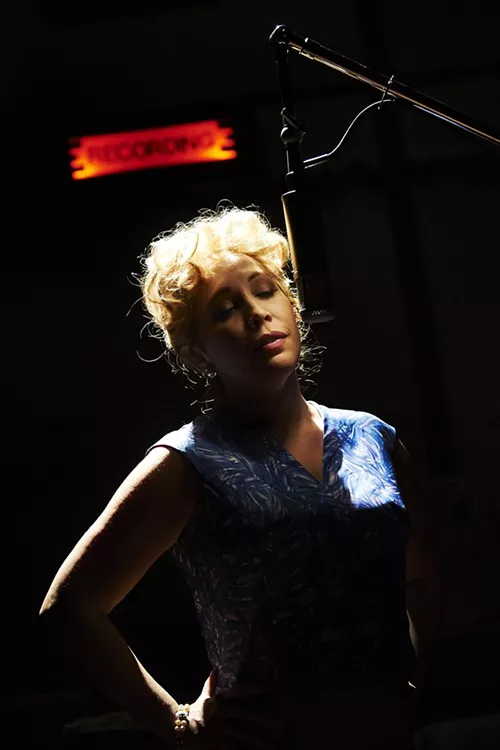 Photo courtesy of Kristi Jan Hoover
Andrea Burns in "Smart Blonde."
It would surely increase your appreciation of the play to be familiar with Holliday — or at least her iconic portrayal of Billie Dawn in the 1948 film
Born Yesterday
. But playwright Willy Holtzman provides all the background you need to engage with the story of an intelligent woman typecast as a dumb blonde, who's also victimized by the Hollywood blacklist after a McCarthy-era Congressional grilling about her alleged Communist sympathies.
The play's set in 1964, near the end of Holliday's cancer-shortened life, in a New York City recording studio where she's come to sing some jazz numbers (including a couple she co-wrote with her husband, jazz great Gerry Mulligan). Holliday tells her life story in a series of flashbacks, and it's catnip for anyone with an ear for show-biz gossip from old Hollywood, or for the American songbook ("I Can't Give You Anything But Love," Cole Porter, etc.).
Appropriately, it's an enjoyably theatrical show. Holliday is winningly played by Broadway veteran Andréa Burns, and all the other roles, from members of Holliday (nee Tuvim's) extended Jewish family to Hollywood moguls, self-righteous Congressmen and more, are played by the very capable Jonathan Brody and Adam Heller.
As Ted Hoover notes in his review for CP, Holtzman packs the play with so much incident that he's unable to dig terribly deep into any of it. The blacklisting episode, in which the fiercely intelligent Holliday resorts to playing dumb blonde to save herself, is worthy of a play of its own
But this production (commissioned by City Theatre) has plenty of pleasures. Not least, in the intimate confines of City's Hamburg Theatre, it's especially easy to appreciate Tony Ferrieri's great set, detailed down to the dirty ashtrays, vintage sound booth and parquet floor.
City Theatre is located at 1300 Bingham St., on the South Side.
Smart Blonde runs through Sunday. Tickets are $15-56 and are available here.