Online sensation and queer advocate Tyler Oakley has quite the range of laughs, his best sounding somewhere between hysteria and a case of light hiccups.
It's pretty amazing, and his almost six million subscribers would probably tell you so, too.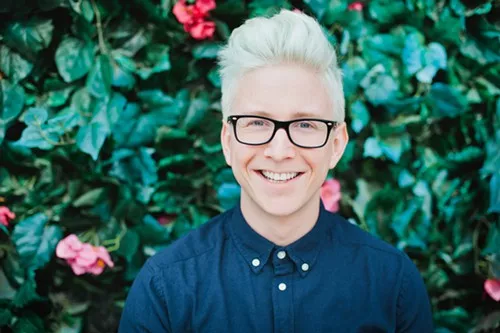 Starting in 2007, the 25-year-old from Jackson, Mich., and queenie of the web has made a career out of talking about his life. He's interviewed FLOTUS and produced a slew of celebrity-speckled, sometimes edging-toward-inappropriate vlogs. Openly gay, he raised more $500,000 last year for
The Trevor Project
, an organization working to prevent suicide among LGBT youth.
This fall, Oakley has taken his living room on the road for a sold-out variety show called "Tyler's Slumber Party." Back for more (and promising to upgrade 20 tickets to VIP passes), he hits Carnegie Music Hall of Homestead on Saturday, ready to put locals on "blast," opening his hour-and-a-half show by reading embarrassing headlines from our past.
He chatted with CP recently by phone.
Why slumber parties?
I've been doing the live stream in my living room in my pajamas, so I was like, "Why not take that on the road?" And, plus, who doesn't love a onesie? It was so fun because I was like, "Is anyone going to come in a onesie?" and then the first set of shows, everybody was in their pajamas, I mean, even the parents.
What do you think of the perception of you as everyone's queen, everyone's gay BFF?
It's really bizarre! Obviously that was never the goal or anything, but to have people say that, I mean, you don't get used to it. It's definitely flattering and endearing, and when my viewers say that or things like that, it comes from the best intentions from possible. So I'm like, "I'll take it. Thank you. I love you back."
How do you balance that audience of occasionally very young girls while still being your mature self and reflecting your personality?
I just always assume that, you know what, if it's something people shouldn't be watching in their house, if that's not something that a parent allows or something, then the parents will definitely be in charge of making sure the kids don't.
What's down the road for you? Are you going to go from slumber party to Pampered Chef party?
Oh my god. If I did, my mom would love it. I don't know! Who knows!
So, then, where do you see yourself at age 70?
Seventy. Oh my god. Hopefully, I'll have grandkids and maybe they will continue the blogging legacy. I don't know where I'll be. Maybe when I'm 70 I'll have had a talk show and I'll have had multiple [best]-selling books, and I'll still be doing my podcasts and still be talking into a camera if cameras are still around for that.
Maybe we'll be sending vlogs via brain waves or something. I don't know where I will be in the future, but I'll still be doing something.
Show info:
Tyler Oakley performs at Carnegie Music Hall on Sat., Dec. 13, at 7:30 p.m.
The venue is located at 510 E. 10th Ave., in Munhall. Tickets are $39.75.
Go here for tickets and more information.