This entertaining world-premiere production asks, what if some famous residents of a famous Paris cemetery spent the afterlife as fellow lodgers at a grand hotel? And what if some of them were egos like Oscar Wilde, Jim Morrison, Victor Hugo and Sarah Bernhardt?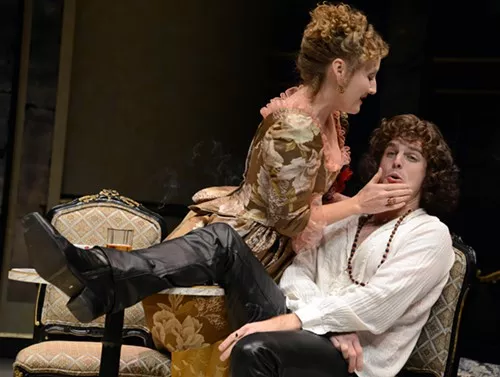 Deanne Lorette (as Sarah Bernhardt) and Daniel Hartley (Jim Morrison) in "L'Hotel"
For good measure, playwright Ed Dixon throws in Isadora Duncan, composer Gioachino Rossini, one very flustered French waiter and a Ouija board.
As Dixon acknowledges, this isn't the place to go to learn about the "real" Bernhardt, or anybody else he's writing about. In fact, as CP's Michelle Pilecki contends in her review, the play might well disserve some of its historical personages — Rossini hardly having been the buffoon Dixon portrays for laughs, for instance.
That grain of salt taken, the play's a lively if curious mix of physical humor, sex farce and drawing-room comedy, capped by a perhaps-unexpected dose of existential enlightenment. And the cast is terrific.
L'Hotel has eight more performances through Sunday, starting with tonight's.
Tickets are $15.75-56.
The Public's O'Reilly Theater is located at 621 Penn Ave., Downtown.