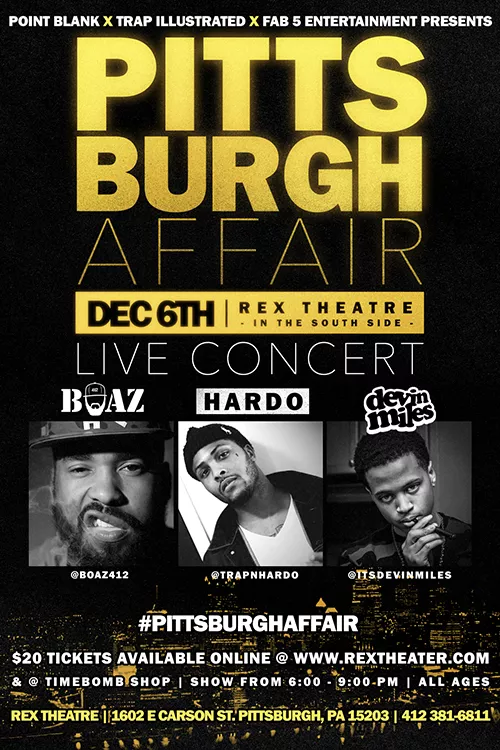 This Saturday, December 6th, the Rex Theater is hosting a show with some of the top local hip-hop talent, dubbed "Pittsburgh Affair." The event features artists Hardo, Boaz, Devin Miles, and the 58's.
Hardo, nicknamed for his raw lyrics, has been a Pittsburgh staple since returning to the scene in 2012 after a year-long incarceration. Now he is more determined than ever to release music to the fans that stuck with him. Boaz, hailing from Larimer, signed with Rostrum Records in 2012 and has been releasing music since 2003. He released his sophomore album, Intution, in summer 2014.
For 21-year-old Devin Miles, rapping stems from his piano training as a child. The Penn Hills native dropped out of college to pursue his dream, and has released three EPs and recently put out his first full-length, Pixburgh. The 58's, named after "5ths of best liquor and 8ths of the best weed," was founded in 2010 by members B.White, Mayo, Ghosty, and Dj Tom Dug. What the group lacks in glamour they make up for in talent.
Though stylistically varied, these performers all share their Pittsburgh roots. You can see them perform under the same roof in what's sure to be a unique mix of the performers' styles.