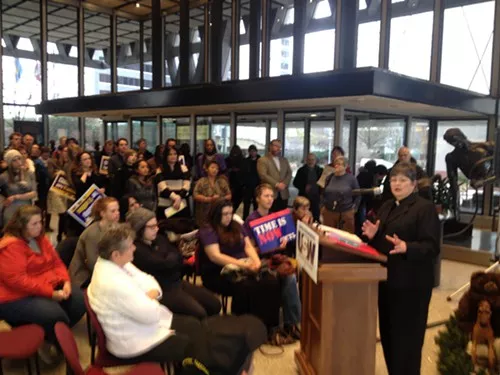 Rev. Linda Theophilus addresses a crowd at United Steelworkers headquarters this morning
The mood in the lobby of the United Steelworkers headquarters this morning, where dozens gathered to celebrate a renewed push to offer legal status to millions of undocumented immigrants, was undeniably festive.
"Christmas came early for immigrant families," declared Guillermo Perez, president of the Pittsburgh chapter of the Labor Council for Latin American Advancement.
But while President Barack Obama's announcement was met largely with praise, advocates acknowledged it's far from comprehensive.
"We've been calling on the White House since Spring 2013," says Fred Redmond, vice president of human affairs at the United Steelworkers. "It's only a first step."
The change in policy, announced in a prime-time address last night, will affect roughly 5 million people, according to the New York Times. Four million people, who have lived in the U.S. for at least five years and have no criminal record, will be eligible for legal status that would defer their deportations.
And one million more people will be protected from deportation through changes in other programs "including the expansion of an existing program for 'Dreamers,'" who came to the U.S. as children, the Times reported. Perez, a labor organizer, says the policy change could affect about 31,000 people living in Pennsylvania.
It will not help farm workers, however, and the five million immigrants affected will not get subsidies under the Affordable Care Act.
Still, Monica Ruiz says the new policy is going to help keep her family together.
She says that while she was born in the U.S., the change will help her brother-in-law and nieces and nephews, some of whom have been in the U.S. for over ten years, but live in fear over whether a hospitalization or a call to the police for help could lead to deportation.
"It's scary — you don't know what's going to happen. You don't know if your parents will come home," says Ruiz, who works with Casa San Jose, a non-profit that does outreach in the Latino community.
Perez says objections to the policy announcement are mostly politically motivated and "the substance of what's being done has widespread support."
"Do I wish [Obama] had acted sooner? Yes — for all the people who were deported," Perez says, arguing reform that includes a path to citizenship is the ultimate goal. "This is great, but that still leaves six or seven million people. It's not comprehensive reform."